Telltale's Walking Dead Season 3 gets release date, titled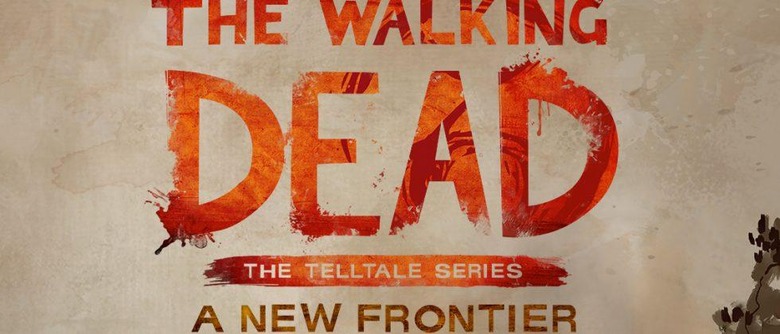 A third season of Telltale Games' award-winning The Walking Dead game was originally announced back at E3 earlier this year, but the developer has now revealed a few new details, including the release window and official title. Fans of Telltale's signature episodic-gaming and interactive narrative style have been patiently waiting to find out what happens after the end of 2013's TWD season two. Now we know we'll be rejoining our returning heroine Clementine this November.
Telltale shared the new information at the PAX West gaming expo in Seattle this weekend. Along with the window of release, it was announced that the full title will be The Walking Dead: A New Frontier, dropping the "season three" part from the official moniker, likely to avoid intimidating players who maybe haven't played the first two.
As mentioned, Clementine will once again be the main protagonist, but while TWD seasons one and two were for the most part set back-to-back, A New Frontier will start off with four years having passed. This will put Clementine, who was around 8 years old when we first met her, now in her teens.
But players will also be taking control of a brand-new character, Javier. Telltale executive producer Kevin Boyle has said that by giving players someone new to identify with, it adds the element of mystery to the story where we find out what's happened to Clementine over the years and how she's changed. This also has the benefit of introducing the series to those who haven't played the first seasons.
"When we began this series, we explored what it meant to protect a character like Clementine at all costs. Years later, meeting her for the first time, Javier will begin to unravel the mystery of who Clementine has become, as her story intersects with his — both of them still driven by the things they value most long after society's collapse."
Telltale added that A New Frontier will be released on consoles, PC/Mac, and mobile platforms, although an exact date in November hasn't been set yet. In addition to purchasing the episodes as digital downloads, a physical disc version will be available for consoles that contains the first episode plus a season pass, allowing buyers to download the remaining four as they're released.
VIA Venture Beat