Telltale's Walking Dead game sells one million copies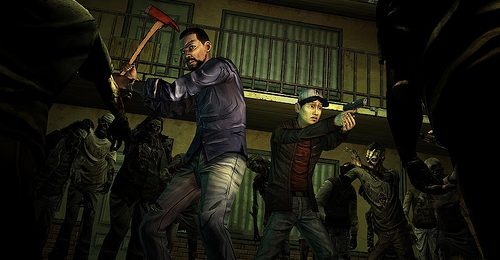 In less than a month's time, a game based on a niche comic book franchise that was turned into a successful TV show has been able to become its own breakout success. The Walking Dead Episode 1: A New Day has been downloaded a million times between the Xbox Live, PlayStation Network, and Steam. It's hopefully a good sign as future episodes of the game are released.
The full game is set to be split up into five episodes, each of which will be sold on the digital download platforms for $4.99. Or, if you have a strong feeling that you'll want to buy all five, you can buy the entire series upfront for $19.99, saving you an eventual $5 or so compared to buying each episode individually. Even though it's a zombie game, though, don't expect a hack-and-slash adventure.
Instead, this game will be heavily driven by story and dialogue, and making decisions within the game. "Your decisions or actions might have an effect in the episode you're playing or might affect the entire season. You could answer a question in a certain way and have a character become suspicious of your motives, or you could be forced to choose who to save when two people are in mortal peril but only one can be yanked back from the zombie horde. Your decisions will stay with you throughout the series, and their repercussions could mean that you and a friend have a very different game experience," Telltale wrote in a PlayStation Blog post.
[via Comic Book Resources]