Telltale's Batman episode 5 launches next week, episode 1 goes free on PC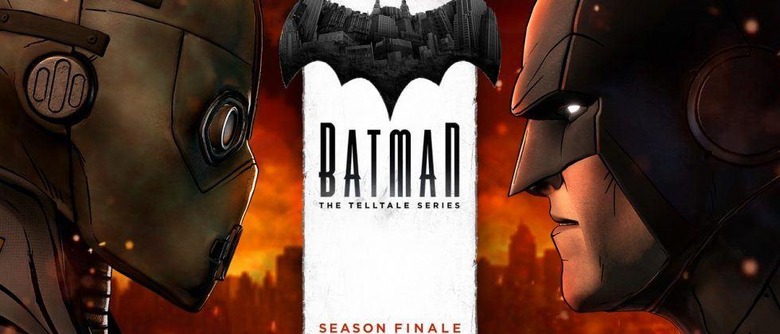 The final chapter in Batman: The Telltale Series is nearly here. The fifth episode, which is titled City of Light, will be available across a variety of platforms beginning Tuesday, December 13. This release wraps up the first season of Batman: The Telltale Series, which got its start back in August with the first episode, Realm of Shadows.
If you've yet to check out Batman: The Telltale Series and PC is main gaming platform, then now is as good a time as any. That's because Realm of Shadows is now free on Steam, tempting new players in as the series is about to conclude. There's no word on whether or not the first episode will remain free indefinitely, so best to download it sooner rather than later if it's something you want to check out.
Without delving too far into the realm of spoilers, Telltale teases that in episode 5, "the leader of the Children of Arkham prepares to execute the final act of a plan to destroy the Wayne family name, and the people closest to you are in their path of vengeance." The developer also says that players will begin the episode in "very different places," depending on the decisions they made in the third act of episode 4.
On top of all of this, Telltale has also issued a patch for the PC version the game. This patch primarily centers around performance issues that have been present since the title first launched, and also adds support for a wider range of hardware configurations. Upon applying the patch, you'll notice that you have more options when it comes to graphics customization, allowing you to tailor fidelity to match the power of your PC.
Nobody knows what to expect from City of Light, in part because Telltale chose to develop its own narrative instead of adapting an existing one for the game. It's unknown at this point if Telltale will develop a second season for Batman and follow the same release schedule that it did for The Walking Dead, but it'll likely be easier to make an assumption based on how City of Light ends. City of Light, like all the other episodes before it, will be launching on PC, Xbox 360, Xbox One, PS3, PS4, iOS and Android when it arrives next week.