TeleNav GPS Navigator for T-Mobile myTouch 3G arrives August 5th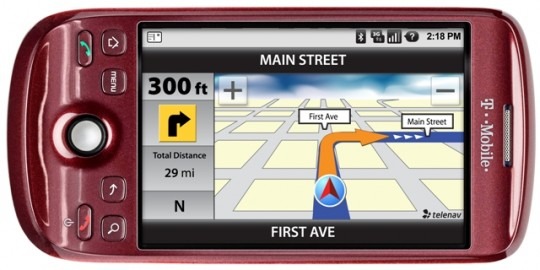 TeleNav have announced that, like the G1, the T-Mobile myTouch 3G is next in line for its subscription-based turn-by-turn navigation app.  Available to download from August 5th – complete with a 30-day free trial available from the company's site, just to get you hooked – the software includes traffic/incident updates, automatic re-routes, POIs and gas prices, together with speech recognition for programming your destination and finding businesses.Video demo after the cut
In fact there are more than 10 million businesses and services listed, together with reviews and ratings, all hooked up to the myTouch 3G's phone and browser for easy contacting.   A daily commute alert feature will automatically email an optional traffic summary for a preset common journey.
The TeleNav app for the myTouch 3G will be released to the Android Market on Wednesday this week; at the same time you'll be able to sign up for a free, 30-day trial at the company's site.  Subscriptions are priced at $9.99 per month. 
Press Release:
T-Mobile myTouch 3G to Launch with GPS Navigation from TeleNav

TeleNav GPS Navigator™ available tomorrow, August 5;

30-Day Free Trial on TeleNav.com

SUNNYVALE, Calif. – August 4, 2009 – TeleNav announced today that TeleNav GPS Navigator will be one of the first turn-by-turn GPS navigation services available to run on the T-Mobile® myTouch™ 3G with Google. TeleNav GPS Navigator will be available for a free 30-day trial beginning tomorrow, August 5, when the device goes on sale in retail stores and online. To sign up for the free trial, T-Mobile MyTouch 3G customers should visit TeleNav's website.

"TeleNav GPS Navigator on the myTouch 3G turns the phone into a powerful GPS device," said Sal Dhanani, TeleNav's co-founder and executive director of marketing. "We invite all myTouch 3G customers to take advantage of the free trial and let us know what they think."

TeleNav GPS Navigator on the T-Mobile myTouch 3G includes full-color 3D moving maps along with voice and on-screen turn-by-turn driving directions. Navigation is available in both landscape and portrait mode. If drivers miss a turn, they will automatically be rerouted. TeleNav GPS Navigator also includes speech recognition for both address entry and business search. On the T-Mobile myTouch 3G, customers simply press one button and say the name of a business or the address and TeleNav GPS Navigator will provide directions. Subscribers can also preplan trips online by accessing their account through My TeleNav. TeleNav GPS Navigator includes listings of more than 10 million businesses and services, including restaurants, hotels, shopping malls and movie theaters – providing users access to restaurant ratings and reviews as well as phone numbers for business listings.

Once on the road, TeleNav GPS Navigator monitors each specific route and will proactively search for known traffic congestion or incidents. Customers will be alerted to traffic problems, both audibly and on-screen, and can choose to find another route to their location by just pressing one button. TeleNav customers also have the ability to set daily traffic commute alerts. At the requested times, TeleNav GPS Navigator will send an email alert with a summary of current known traffic conditions and delays for their routes, helping users decide when to get on the road in order to avoid traffic congestion.

The service also includes frequently updated gas price listings so drivers can look for the cheapest gas in their area or along their route. Additionally, TeleNav GPS Navigator includes location-based weather information. Customers can see current weather conditions as well as a five-day forecast for their present location or for a destination of their choice in the U.S.

Finally, with advanced preference enhancements, TeleNav customers have the flexibility to choose whether to avoid high-occupancy vehicle (HOV) lanes and toll roads. In addition, subscribers can pause and resume the navigation at any time they choose, as well as set the map display colors to a 'nighttime' mode for easier viewing at night.

To sign up for a 30-day free trial of TeleNav GPS Navigator, T-Mobile myTouch 3G customers can visit TeleNav's website or contact TeleNav at 1.88.TeleNav.4 (1.888.353.6284) or at care@telenav.com.

To subscribe to an RSS feed of TeleNav press releases, please go to http://feeds.feedburner.com/telenav/press-releases/. To follow TeleNav on Twitter, please sign up at http://twitter.com/TeleNav.

About TeleNav, Inc.

TeleNav, Inc., a privately-held company headquartered in Sunnyvale, California, was the first to launch a cell phone GPS system in the United States. Deployed by 14 carriers in 29 countries, TeleNav is a global leader in wireless location-based services (LBS). Currently, the company's solutions are available in four continents, including North and South America, Asia and Europe.

TeleNav's solutions include GPS navigation, Mobile Resource Management (MRM), social networking and local search. The company's flagship service, TeleNav GPS Navigator™, offers functionalities comparable to in-car systems and standalone navigation devices, such as automatically-updated maps and business locations, full-color 3D moving maps, traffic alerts with one-click rerouting, location-sharing, business reviews, speech recognition, Wi-Fi hotspot finder, gas price finder and more. TeleNav also delivers its award-winning navigation service on the TeleNav Shotgun™, a standalone GPS personal navigation device (PND) tailored specifically for business travelers. TeleNav's enterprise application, TeleNav Track™, incorporates GPS-enabled tracking, time sheets, wireless forms and navigation. TeleNav Track is a widely adopted service with approximately 9,000 customer organizations using it today.

TeleNav services are available on more than 500 wireless devices and run on most major mobile platforms currently available. TeleNav's partners include Alltel, AT&T, Bell Mobility, Boost Mobile, China Mobile, Ford Motor Company, Hewlett-Packard, HTC, INRIX, LG, Motorola, NAVTEQ, NII Holdings, Nokia, Palm, Qualcomm, Research In Motion (RIM), Rogers, Samsung, Sanyo, Sprint Nextel, T-Mobile Austria, T-Mobile UK, T-Mobile USA, Telcel, Tele Atlas, Verizon Wireless and Vivo Brazil.

For more information on TeleNav, please visit www.telenav.com.