TeleNav GPS for G1 announced: Video review at Android Community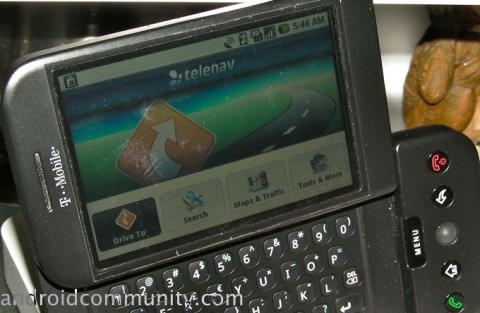 TeleNav have announced the first turn-by-turn GPS app for Android and the T-Mobile G1, complete with full color 3D graphics, speech recognition, one-click route recalculation and traffic alerts, together with weather updates, gas prices and restaurant reviews.  Over at Android Community they've already been playing with TeleNav, and have their full review up complete with a video demo of the navigation app in action.
As well as spoken and on-screen turn-by-turn directions there are "millions" of points of interest (POIs), which are regularly updated to include new information and weed out anything no longer accurate.  Although Android Community found the voice recognition to give mixed results, the TeleNav browser plugin – which lets you highlight addresses on your computer, and one-click send them to TeleNav on your G1 – worked seamlessly.
TeleNav will be available to download from the company site as of February 24th, and available through the Android Market later this year; there's a 30 day trial and then the app costs $9.99 per month.  For the full review – complete with gallery and video demo of TeleNav for Android in action - head over to Android Community.