TeleBlend offers first $99 unlimited annual VoIP plan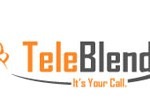 We all know the economy is tough and many people don't have the same money coming in as they have been used to over the last several years. Many Americans are looking for every place they can find to save a bit of money on their monthly bills. If you have a broadband connection in your home, a company called TeleBlend is offering what it claims to be the first unlimited VoIP calling plan for a fixed annual charge.
TeleBlend offers a full year of VoIP service for $99 and includes unlimited local and long distance calls inside the US. Calls internationally are available but cost more per minute. "TeleBlend has always strived to provide the most affordable unlimited phone service in the industry. With the launch of our new $99 Annual Plan, we feel that we have accomplished that goal and not only made phone service more affordable to households around the nation but also more convenient."
Plunking down your $99 gets you a year of VoIP phone service, a free device, and 15 calling features including Caller ID, voice mail, and simultaneous ring. TeleBlend even waves a cancellation fee if you don't like the service. The $99 annual plan is available for a limited time so if you want to save some green jump on it now. I wonder how the call quality stacks up to big names like Vonage.