Tekkeon myPower All line of laptop batteries designed for solar chargers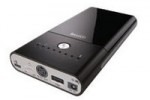 Just about everyone who has traveled with a laptop for business or pleasure has wished for more run time from their battery at some point. Some computer have removable batteries that can be swapped when one goes dead, but many notebooks lack a replaceable battery, like the MacBook line.
For the user who can't remove the battery on their laptop there are external batteries like the new Tekkeon myPower All. The external batteries are designed to recharge from the company's line of solar chargers available in 12 to 62 watt modules.
The myPower All external batteries are able to connect to laptops, portable DVD players, video recorders, cameras, MP3 players and more. The battery packs have adjustable regulated power making them work with many different laptops and other devices and they include multiple adapters for compatibility with other systems. The battery packs connect to Tekkeon solar chargers through the DC input port or through the 3-pin solar port with the Sunbooster smart 3-pin adapter. The external battery and the solar charger together weigh less than five pounds.