Tegra K1 JXD S192 "retro" gaming tablet goes on pre-order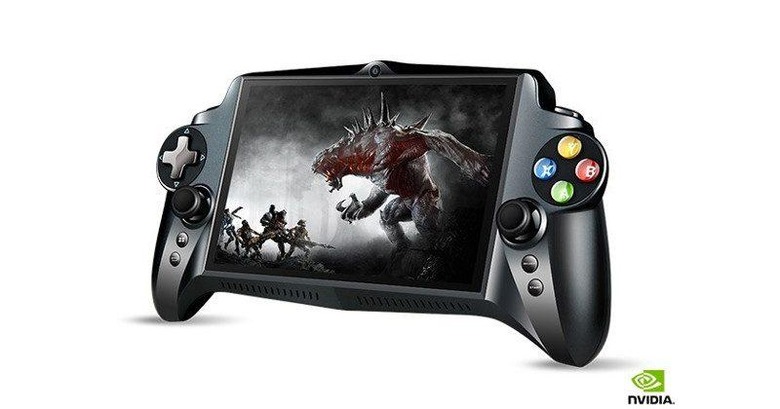 "Gaming tablet". Now that's one we haven't heard in quite a while. With a few exceptions, like Archos' now silent GamePad, or Acer's odd-looking Predator, or NVIDIA's stylus-less SHIELD Tablet K1, most tablets do not usually advertise game-ability. Multimedia and processing power, sure, but nothing close to gaming on big displays. JXD, however, isn't giving up the fight just yet. The same Chinese OEM who brought us a PSP-alike Android tablet is now putting up the JXD S192 on pre-order, promising the power of NVIDIA's Tegra K1 chip in a different, unique, and more odd-looking package.
We're still not sure where the "Retro" part of the name comes into play, as the device definitely doesn't look like any handheld or standard game controller we've seen. If anything, it looks like one of those more recent Bluetooth game controllers that split in half in order to accommodate any smartphone or tablet size, except here it's built into the tablet itself. The good news is that you're unlikely to lose or accidentally leave any controller at home. The bad news is that it makes the JXD S192 nigh unusable in any other orientation than landscape.
The controls themselves are what you'd expect from a controller that tries to mimic most console gamepads today. On the left you have a D-Pad and one analog joystick and on the right you have the quintessential four buttons and another analog joystick. There's a complete pair of shoulder and trigger buttons on the top as well. In addition to dedicated buttons for Start and Select on the right, there is also a button for Apps and Back on the left, too. This is, after all, an Android tablet.
And as an Android tablet, this is definitely not a shoddy device either. At the forefront is NVIDIA's Tegra K1 processor, still a beast in the field, though we still yearn for a Tegra X1 portable gaming device that is not a TV Box. The screen is a 7-inch 1920x1200 display, which gives it a bit more pixel density than an equivalent SHIELD Tablet K1. The two, however, have similar 2 GB RAM, which will undoubtedly become the bottleneck in this setup. Storage is 32 GB, double that of the SHIELD Tablet. And the battery is a humongous 10,000 mAh pack. It even has a 13 megapixel main camera, for whatever reason you might want to use it.
In short, it could give the SHIELD Tablet K1 a run for its money, except you'll hardly be able to use the JXD S192 for anything other than gaming. It's possible, sure, but perhaps unwieldy and awkward. It also runs a very old Android 4.2.2. That's still Jelly Bean, for you Android fans. A key information missing from the product page is whether it will be possible to map physical buttons to screen ones. Not all games support gamepads yet, even on Android, and some like Archos and other accessory makers have provided apps to make that mapping. As a gaming tablet, that should be major feature bullet point.
If that has still left you wanting for this device, the JXD S192 "NVIDIA Android Retro Gaming Tablet" carries a price tag of 219.99 GBP, roughly $316. It's still in pre-order now, but shipping is scheduled to start 6th of May.
VIA: Funstock