Teclast T58 Android-powered PMP spotted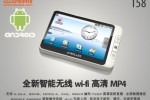 Android is turning up in all sorts of gadgets and gizmos outside of the smartphone world. PMPs are one of the places Android is headed, the question is really who will launch an Android device first. Teclast has unveiled a few details on its T58 PMP.
The PMP will use the Android OS and if it hits market soon enough, it could be the first Android PMP around. The device has integrated Wi-Fi and GPS. Wi-Fi means that web surfing on the device will be available and online streaming of tracks.
The device will also be able to send and receive email, watch videos and play games online. Other features include a 1280 x 720 resolution touchscreen and support for H.264, RMVB, MPEG-4, AVS, and WMV9.
[via PlayerBites]