TechFaith ships first Windows Mobile based touchscreen to Mexico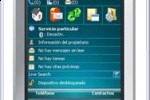 These days' smartphones are quickly building popularity just about everywhere in the world. TechFaith Wireless has just announced their first carrier-supported smartphone to be released in Mexico.  The handset that is set to be released will be called the Techfaith Moffet.
The new Techfaith Moffet is a CDMA-based smartphone that has 3G among older generation specifications. Iusacell will sell this smartphone, which includes Bluetooth, Wi-Fi, camera, music player, 3G and a 2.8-inch touchscreen.  As outdated as it seems this smartphone will be running Windows Mobile 6.0, yes 6.0 folks.
TechFaith is putting their money on the fact that they will be able to sell many more devices on a carrier than they have been able to do when selling unlocked handsets in the past. "We're very pleased to ship the first pocket PC CDMA to Mexico," said Wilson Cai, Deputy CEO for TechFaith. "The shipment of this high-performing, Windows Mobile based pocket PC is a significant milestone for TechFaith. We expect the device to be very successful in the Mexican market."