Tearable displays by Google may help find your lost dog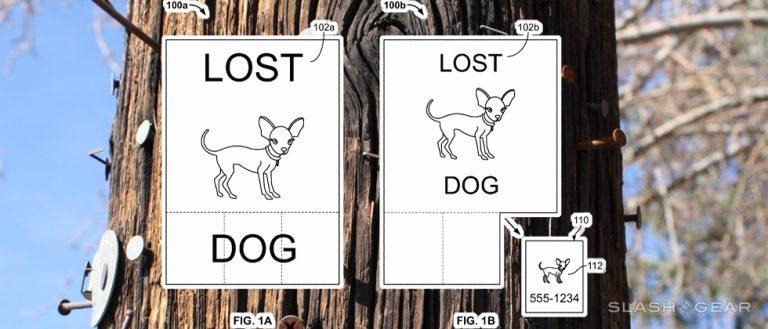 Google has imagined a sort of display which, cost depending, could make your "Lost Dog" poster an interactive experience. Google has patented a technology which includes information displays that can be physically altered by a user. One portion of the display is torn off, and that portion exists as a display in and of itself, working with its own power and – perhaps – its own processing power that works into the future.
Google's patent includes the possibility of the torn-away bit of this display showing graphics, text, video, or "other content." Each resulting portion of the display – once torn – "can alter the content presented, based, in part, on the characteristics of the tearing."
Google also mentions that their tearable display could be a modular sort of design. Not just torn once, and done – instead, like pieces of a puzzle, pieces could be removed and replaced. They even suggest that "the torn portion can be reattached to a display in a configuration or position different from the portion's original configuration or position."

The torn portion could potentially display a smaller version of the larger display. That smaller piece could sent information back to the larger display to allow it to resize its own content based on its newly configured size.
Google suggests that a "Lost Dog" poster could present a new set of tearable portions based on how many portions have already been torn off. Each torn portion could include "a series of changing pictures of the lost dog or a video of the lost dog."

In addition to OLED display technology for the bigger, brighter portion of the display, Google says, the turn bits could convert to e-ink. "After being torn off," Google writes, "the content as displayed by the fluidic elements is set and may not require a processor or computer-readable media for the content to remain visible to a user."
Neat! While – again – we can't imagine a cost-friendly iteration of this technology at the moment, the future certainly might!
This information is derived from Google's USPTO listing for Patent Application number 20160117288. Inventors are listed as Max Andrew Sills and Robert Samuel Gordon.