Team Hot Wheels lands Guinness World Record for gigantic car double loop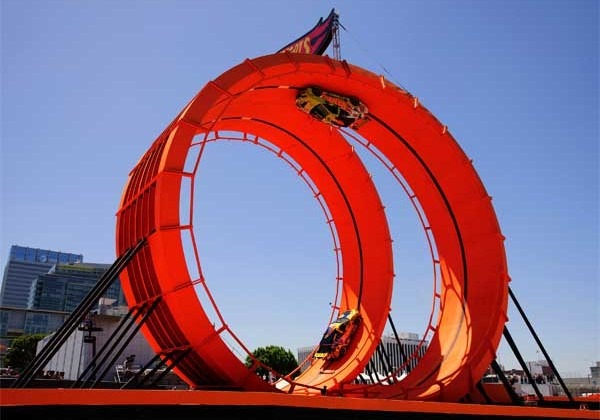 OMG! I've seen some crazy stunts before that some drivers have successfully pulled off, but a couple of drivers from Team Hot Wheels have pulled off what might be the craziest stunt ever. Team Hot Wheels put together a new Double Loop Dare track modeled after a toy track set called Double Dare Snare. Bringing a kid's toy track to real life is cool enough, but actually sending real drivers in real cars to make the double loop is insane.
The stunt was pulled off by Yellow Driver Tanner Foust and Green Driver Greg Tracy at the X Games in Los Angeles. The two drivers took off side-by-side and headed for a six-story tall double loop. The cars left at a speed of 52 mph and hit the loop where they were subjected to 7Gs of force.
After making the double leap, the two drivers also made a jump onto a landing platform. The stunt was broadcast live as part of the ABC coverage of the X Games on ESPN. If you missed that coverage, Team Hot Wheels has put the footage online. You can see the YouTube video below.