Taser X3 triple shot electro-shock weapon launches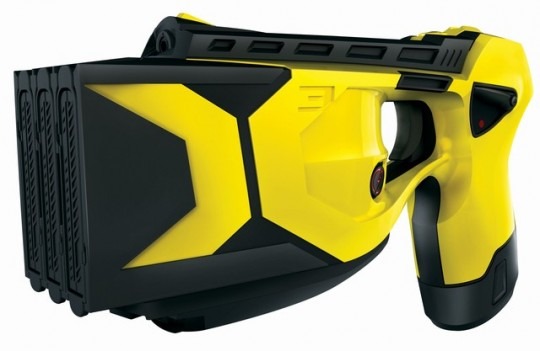 Remember that entertaining-yet-disturbing video of three Taser employees being taken down by the company's latest "less lethal" weapon?  Well, the device responsible is the Taser X3, capable of firing three cartridges without reloading together with putting on an intimidating "warning arc" lightshow without requiring the cartridges' removal first.
Since you generally don't want to kill the person, just incapacitate them, Taser have incorporated some new safety features which can automatically adjust the electrical output to avoid permanent damage.  The Pulse Calibration System and Charge Diffusion Probe design are both tied into the X3's Trilogy Log record, which tracks usage and then can upload those stats wirelessly for review.  Alternatively, if more than one X3 is being used – and you invest in the TACOM Digital Power Magazine – you can synchronize each weapon to shoot simultaneously.
There's also a dual laser sight system and a full color screen for status updates.  None of this comes cheap, though; the full Taser X3 system, including a holster and data download kit, amounts to $1,799.95, though you can also trade in your old Tasers for a discount.
Press Release:
TASER International Launches Revolutionary New Multi-Shot TASER Device With Precision Shaped Pulse Technology

Next Generation TASER X3 Unveiled At Annual TASER Conference

SCOTTSDALE, Ariz., July 27, 2009 (GLOBE NEWSWIRE) — TASER International, Inc. (Nasdaq:TASR), a leading provider of technology solutions and the market leader in electronic control devices (ECDs), today launched its new TASER(r) X3(tm), the next generation product line of its proprietary ECDs, at its annual TASER Conference in Fountain Hills, AZ.

The X3, which is capable of firing three cartridges without reloading, is the first new handheld ECD by TASER International since the introduction of the TASER(r) X26(tm) ECD in 2003.

The X3 uses a revolutionary Pulse Calibration System(tm) to constantly monitor and calibrate electrical output to provide more consistent effects on the target and to provide enhanced safety over the current proven and widely accepted TASER(r) technology.

"The TASER X3 is the most sophisticated handheld weapon ever developed," said Rick Smith, CEO of TASER International. "The X3 will improve effectiveness and safety over the previous generations of TASER(r) devices while also providing the ability to store and retrieve more information and diagnostic analysis on the use and performance of the device than the X26. While our flagship TASER X26 is recognized as the leading law enforcement tool to deliver a less-lethal response to resistance, it is limited by being only a single-shot system. Developing a multiple-shot capability makes sense to increase officer safety through the ability to recover from a missed shot or even simultaneously stop up to three separate targets. The remarkable technology advances of the X3 will provide more safety for officers and the communities they protect as well as more transparency in reporting and analyzing dynamic confrontations with law enforcement."

Since July 1, TASER International has provided daily reveals of the new features and technology of the X3 at www.TASERX3.com. Several of the key technology breakthroughs noted in more detail at today's X3 unveiling include:

1. The world's first multiple-shot ECD using new Rotational-Pulse(tm)

Drive provides for enhanced officer safety by enabling the user to

recover from missed shots and/or engage up to three targets.

2. Warning Arc — the ability to arc display even while cartridges

are loaded. Previously, a warning arc has been shown to gain

voluntary compliance in more than over 80% of incidents without

resorting to the deployment of probes. However, this has

previously required the removal of the TASER(r) cartridge to

demonstrate the electrical arcs, which can expose an officer to

danger with a temporarily unloaded TASER device. Now, officers

can readily use the Warning Arc while the cartridges are loaded

resulting in both improved officer safety and suspect safety.

3. Pulse Calibration System (PCS) and Charge Diffusion(tm) Probe –

the PCS constantly monitors and calibrates electrical output to

deliver a Precision Shaped Pulse(tm) that provides more consistent

effects on the target. The Charge Diffusion Probe allows most of

the charge energy to diffuse into the outermost layers of the skin

with much less energy penetrating deep into the body. The

combination of the PCS and new Charge Diffusion Probe design in

the X3 yields improved safety characteristics.(1)

4. Environmentally Hardened system withstands sea spray, rain, dust,

electrostatic discharge, even short-term water submersion.

5. Trilogy(tm) Log system with improved sensors inside the X3 –

greatly enhances the usage data analytics over prior generation

dataports with a variety of sensors that record three data logs:

Event Log records common event data such as safety on/off,

trigger presses, Warning Arcs, cartridge deployments as well

as firmware updates, and time updates;

Pulse Log stores the electric characteristics of every pulse

emitted from the X3 and can determine if the charge was

delivered to a subject, arced into the air as a warning, if

probes missed the target, or even if the wires broke or some

other factor interrupted charge delivery to the subject;

Engineering Log monitors the performance of every key

electrical sub-system within the X3 during events and at

rest and provides alerts to the user if any sub-system is

not performing properly and if maintenance is advisable.

6. Range Adjusted Dual Laser System — increases officer accuracy

and effectiveness with improved dual laser system which detects

the types of cartridges loaded and automatically adjusts the

related dual laser targeting system for the appropriate trajectory

of the probes.

———————–

(1) The output pulse of the TASER X3 is tuned to 63 uC

(microcoulombs) +/- 10% regardless of output conditions compared to

approximately 110 uC in the TASER X26 with both probes penetrated.

Hence, the X3 delivers approximately 1.3 mA of average current

whereas the X26 can deliver from 0.8 to 2.5 mA of average current

depending on whether the probes are penetrated or arcing to the

target.

More information is available at: http://www.taser.com/COMPANY/PRESSROOM/Pages/default.aspx and www.TASERX3.com.

The U.S. end user price of the full X3 system, which includes the Magnesium Holster and data download kit, is $1,799.95. The company will offer generous trade-in programs for both the X26 and ADVANCED TASER(r) M26(tm) through December 31, 2009 to help our existing customers' transition to this groundbreaking new capability suite.

About TASER International, Inc.

TASER International's products protect life. TASER provides advanced Electronic Control Devices (ECDs) for use in the law enforcement, medical, military, corrections, professional security, and personal protection markets. TASER devices use proprietary technology to incapacitate dangerous, combative, or high-risk subjects who pose a risk to law enforcement officers, innocent citizens, or themselves in a manner that is generally recognized as a safer alternative to other uses of force. For more information please call TASER International at (800) 978-2737 or visit our website at www.TASER.com.

The TASER International logo is available at http://www.globenewswire.com/