Target Ticket Video Service Reportedly To Launch For Consumers Soon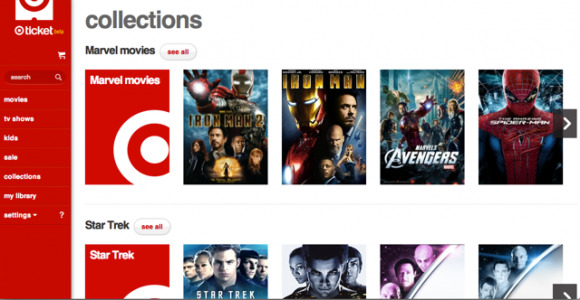 Target has been beta testing a video rental and download service called Target Ticket — a service similar to Walmart's Vudu and Redbox Instant — with select individuals, something that will change soon. Reportedly, workers of the franchise have received notification that the service will soon launch for the public, and with it will be the option to buy or rent digital downloads.
With these downloads, buyers will be able to use them on whatever device they please, whether it is a smartphone, a gaming console, a Blu-ray player, or a different device of similar nature. Both movies and TV shows will be available, with content being offered from networks like Starz, NBC, CBS, Fox, ABC, AMC, CW, HBO, and more.
The pricing is said to be in the $12.99 to $14.99 range to buy most movies on the service, while rental prices will be a lower $3.99 to $4.99. Television shows, meanwhile, will be available for download at a rate of about $2.99 per episode, though it will vary based on the show, with a full season coming in at about the $34.99, also dependent on the show being purchased.
Rentals will be available (in terms of access) for 30 days, though the actual viewing period will only be 48-hours from when playback is started — there is no cap on the number of times something can be viewed within that 48 time span, however. Brands working on support for Ticket include Funai, Samsung, Pansonic, Philips, and LG. In addition, both Android and iOS apps will be available for mobile viewing.
As with Walmart's Vudu and other services, Target Ticket will work alongside UltraViolet, a locker service for keeping downloaded digital video content in the cloud. As far as the interface goes, it is both distinctly Target-branded and similar in nature to other services, with content being available in collections and categories, a sample of which you can see in the screenshot above.
SOURCE: TechCrunch