Tamagotchi On Looks To Make Lightning Strike Twice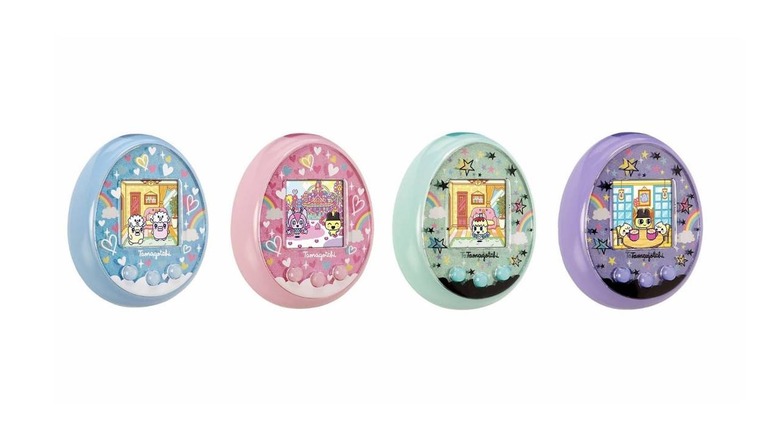 Back in the mid-to-late 1990s, it seemed that virtual pets were everywhere, with Bandai and its Tamagotchi line of devices leading the charge. The virtual pet craze began to wane in popularity pretty quickly, but Bandai persisted in releasing new Tamagotchi, both on a global scale and (more often) exclusive to Japan. Now the company is looking to make a Tamagotchi comeback here in America with a new virtual pet called Tamagotchi On.
If you had a Tamagotchi back in the day, then the Tamagotchi On will look instantly familiar with its egg-shaped, handheld design. This time, however, it'll be quite a bit more capable than the Tamagotchi devices of yore. For starters, Tamagotchi On will be able to connect to your mobile device and communicate with a companion app, and it'll also be able to connect to other Tamagotchi On devices.
Tamagotchi On comes with a color display and is capable of creating "millions of different Tamagotchi characters," with each individual one looking like a combination of their mother and father. Of course, the main goal is to care for your "My Tama" (as they're now called) by making sure that they're fed, well-rested, potty trained, entertained, and taken care of when they get sick.
You'll have more options when it comes to fulfilling those needs – for instance, a Tamagotchi might eat at home or go out to a restaurant, and you'll also be able to take it shopping for items or travel to different towns. For those who might be worried that Tamagotchi On will be a distraction in schools like it was back in the 1990s, the good news is that it'll even have a daycare feature that allows players to ensure their Tamagotchi is well cared for while they need to pay attention to something else.
So, in the end, Tamagotchi On sounds a lot like what we had 20 years ago, only with expanded functionality and new connectivity options. Each Tamagotchi On will cost $59.99, which makes us wonder if that's too expensive for a toy aimed primarily at young children and pre-teens. We'll find out soon enough, as pre-sale for Tamagotchi On opens today at GameStop, Target, and Urban Outfitters, with the device scheduled to launch July 28th.