Talking Star Wars Figures To Annoy Your Passengers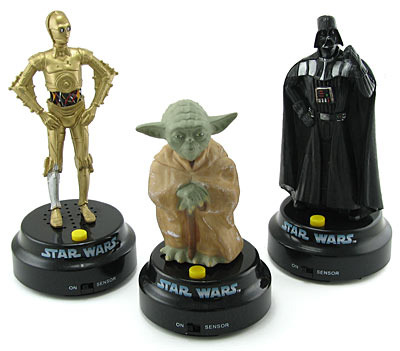 Do you love Star Wars? Do you enjoy annoying the crap out of the passengers in your car? If you answered yes to these questions, then you'll want to combine these two passions into one tiny figurine of your favorite Star Wars character.
Video after the jump
These little figures talk whenever you press the little yellow button and recite quotes from the trilogy. However, you can flip a switch to turn on the sensor. This makes your character of choice rattle off lines every time you hit a bump in the road.
They're only $7 over at ThinkGeek, which is probably best. I'm a huge Star Wars nut, but I would either get bored or sick of these after maybe a week, tops.
Darth Vader and Yoda Talking Statues on your Dashboard [via coolestgadgets]