Talking Message Magnet for your fridge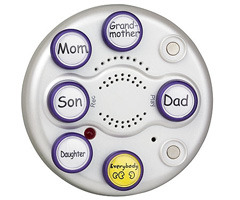 Oh boy, how I hate having messages cluttered on my fridge door. When I come home, I will not go to my fridge to check messages left by my wife or sister so if something important is up I probably would not know it.
However I think there is a device that could change my habit a little, the Talking Message Magnet. It's a fridge magnet with voice recorder with many buttons assigned to each family member.
There is total of 6 buttons that you can personalize such as putting names. The recorder will record up to 10 seconds of messages. The Message Magnet can be purchase at Discovery Channel for $19.95.
Talking Message Magnet [via coolest-gadgets]