Takara Tomy's 3D Shot Cam is 3D Photo Taking for Kids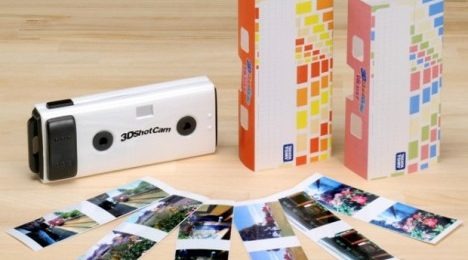 You really can't get away from the 3D drive anymore. You know you can't when it hits the toy market. And that just means they're getting the technology into the mind state of our younger generation. Good plan, 3D industry. Good plan. In any event, Takara Tomy has just announced the 3D Shot Cam, and it's specifically designed to be a cheap option for all the kids out there, age 12 and older.
The camera is of simple origin, and it houses two separate lenses. The toy is actually supposed to be a kid version to Fujifilm's FinePix Real 3D W3 camera, but you'll have to use a special viewer to see the 3D goodness. To use the special viewer, you'll need to print out the images first, as the picture above shows. The camera has a slot for a microSD card, but it can only be expanded to 8GB. The sensor for shooting the images is 0.3MP, so don't expect the greatest of images. But, you get two 3D viewers in the box with your purchase, so that's good.
There's no word on an international release quite yet, but the designer expects to sell somewhere near 50,000 untis in Japan alone, after it launches next Spring. The price? Only $70. And, for a kid's toy that takes 3D pictures (even if you do need a special viewer), that's a good deal. We'll see how popular it gets, which may mean a US-based launch some time next year.
[via Ubergizmo]