TAG's new smartwatch has a fix for when you bore of Android Wear
TAG Heuer's latest smartwatch may be all about interchangeable modules, but the biggest benefit of the Connected Modular 45 might well be its ability to live on after wearables lose their charm. Announced earlier today, the new watch is one of the more expensive options out there – unsurprisingly, given its old-school timepiece brand name – not to mention among the first to run Android Wear 2.0. TAG's trick is interchangeability not only of straps and virtual watch-faces, but far greater personalization.
In fact, TAG Heuer is claiming more than 500 different potential configurations. While there are eleven "standard" models which will be stocked in-store, a further 45 will be offered upon request. Alternative horns, bracelets, and buckles will also allow the smartwatch to be tweaked depending on when you're wearing it and the rest of your outfit.
However the most interesting option is arguably the mechanical modules. Normally, the heart of the Connected Modular 45 is a digital movement powered by Intel's Atom Z34XX processor and topped with a 1.39-inch circular AMOLED touchscreen with a sapphire cover glass. That promises in excess of a day's use on a single charge, 4GB of memory, and water resistance to 5ATM.
Alternatively, you can go back to chronograph basics. TAG Heuer will offer both a mechanical watch module or its Heuer 02T Tourbillon Chronograph, each of which can slot in where the digital module would normally be found. That way, your smartwatch is instantly turned into a traditional watch.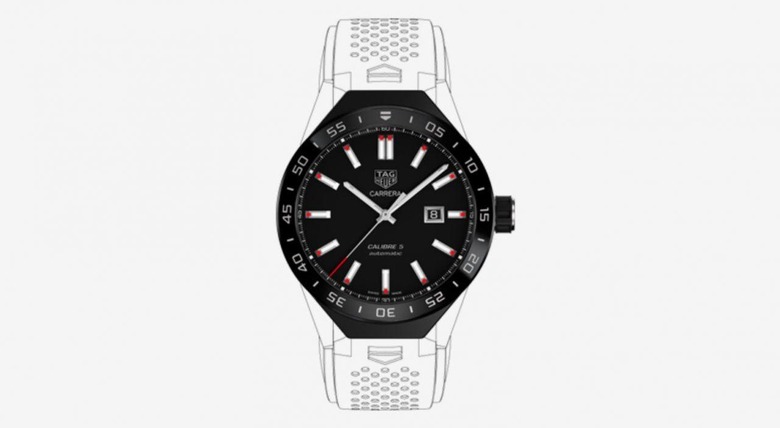 It's not a cheap conversion. The mechanical module, using TAG's Calibre 5 movement, is $1,650; that doesn't get you any of the other parts of the watch. The cheapest complete Connected Modular 45 is $1,600, though that rises considerably if you want a gold or diamond-studded bezel.
Pricing for the Tourbillon Chronograph, meanwhile, has not been confirmed. Nonetheless it's going to be even more expensive: the Carrera Heuer 02T watch which uses the same movement starts at $15,950. It's worth noting that, while that may be the price of a new Honda Fit, it's actually the cheapest Swiss-made tourbillon chronograph on the market.
Why is the upgrade path important? Frankly, because smartwatches all too often find themselves languishing in desk drawers after a brief period of wear, uncharged and forgotten about. Although some swear by their wearable tech, many others simply find the promised productivity increase they thought they'd get never really materializes.
TAG Heuer probably shouldn't be your first port of call for a smartwatch if you're just looking to dip a toe into Android Wear 2.0. Nonetheless, the ability to dump the digital half if you find it's not to your taste, yet still keep some watch functionality, is a welcome improvement. It's on sale from tomorrow, March 15.