Tactile+Plus Stickers Add Physical Gaming Buttons to Your iPhone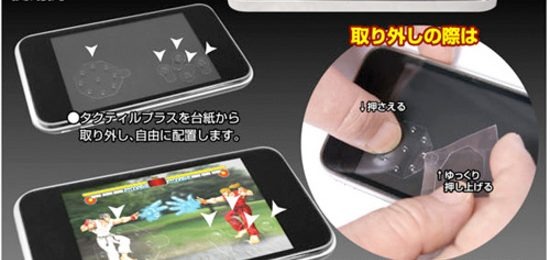 Even if Apple has become a major name in mobile gaming, with the likes of the iPod Touch and iPhone hosting some of the most addictive casual games available on the market, there's still the gamers out there who want nothing more than to have some physical buttons to control their favorite games. The Tactile+Plus Stickers hope to alleviate that situation, and they do it in just about the easiest way we've ever seen.
Straight out of Japan, the Tactile+Plus Stickers are exactly what they sound like. You simply put the stickers over where the digital joystick and buttons are, and then you have something to touch while you interact with them. While some may think that the stickers would prevent your touch from interacting with the display, apparently the stickers don't actually affect that at all. So, you should be able to use them without any worry.
They may not be as good as a physical joystick to actually touch and manipulate, but at least it's something that's easily installed, and just as easy to remove. And, considering the price tag of only $7.80, it may not be all that bad to just try it out.
[via Gadget Lab]