T-Mobile's HSPA+ G2 leaks, confirmed as HTC Vision [Updated]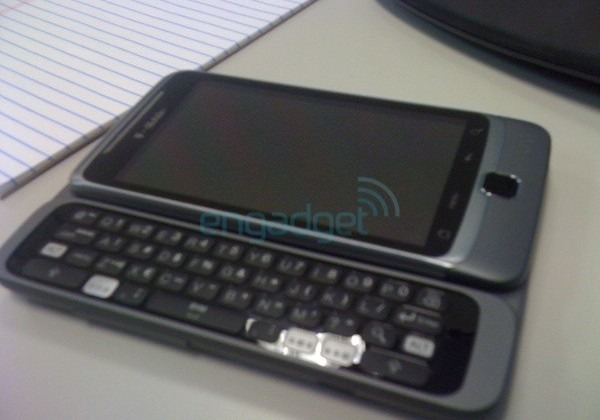 T-Mobile's upcoming G2 smartphone has broken cover, with Engadget being sent images of the new HSPA+ handset in the wild.  Basically an HTC Vision with an HSPA+ modem, it's also now clear that the vague outline on T-Mobile's teaser page hides a slide-out QWERTY keyboard, an optical trackpad and, if the rumors are true, a 3.7-inch WVGA touchscreen and 1GHz Snapdragon processor.
Unfortunately, the one detail we'd really like to know – when exactly T-Mobile will launch the G2 onto the market – is still unknown.  Still, it looks like it's worth waiting for, and the carrier has said more information will be forthcoming in "the coming weeks".
Update: A second-set of images have leaked, this time showing an unusual hinge mechanism that looks to lift the G2's display up and over the keyboard, rather than sliding it straight up.  No word on whether that means it can also tilt, like the HTC Touch Pro2.
[via Android Community]