T-Mobile's DIGITS allows for multiple phone numbers on a single device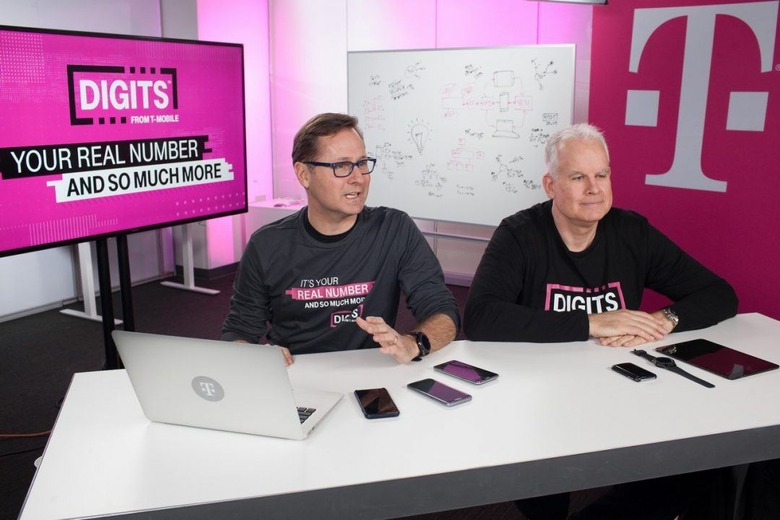 T-Mobile has introduced DIGITS, a new voice over LTE feature that will allow customers to use their phone numbers on a variety of internet-connected devices. Just as well, DIGITS will allow its customers to use multiple phone numbers on a single device. At first blush, DIGITS may sound like some VOIP solutions that exist, and though there are some similarities, T-Mobile is trying to make the experience with DIGITS a little more fleshed out.
For instance, when you use a phone number with DIGITS, your messages, call logs, and voicemails will follow you between devices. This means that if you leave your phone at home, you can log into DIGITS on your computer to make calls and send messages from there. Since DIGITS works on any internet-connected device, you can also use something like a tablet or smartwatch to make and receive calls as well.
One of the advantages of DIGITS that T-Mobile is really pushing in its announcement is the ability to use multiple phone numbers on the same device. If you're a T-Mobile subscriber, in other words, you can have both your personal and work phone numbers on a single phone.
You can also create new numbers to give out to acquaintances, keeping your personal number private. You'll also be able to temporarily switch certain numbers off, which is nice for periods of downtime when you may not want to be bothered by work calls.
There are advantages on the business side of things as well. Companies can use DIGITS to give their employees company phone numbers, and since DIGITS isn't just contained to T-Mobile phones, their employees will be able to use that number regardless of what their personal carrier is. When employees leave the company, your business keeps the phone number, messages, and voicemails, making for a relatively clean break.
A company using DIGITS doesn't need to buy phones for their workforce either, which is a headache for both businesses and employees alike. Going one step further, you can assign a single number to an entire team, so when you call it, everyone's phone rings.
The same thing applies to personal use – when you use phone numbers through DIGITS, all of your devices will ring at the same time. Assuming you don't mind hearing your tablet, computer, and phone all go off at once, that could prove to be a handy feature that puts an end to running across the house to get to your ringing phone on time.
DIGITS is launching with native support on a number of Samsung phones – the Galaxy Note 5, all Galaxy S6 models, and all Galaxy S7 models will work with integrated support for DIGITS from today. For everyone else, you'll have to download an iOS or Android app to use DIGITS, but T-Mobile hopes this is merely temporary as it works with manufacturers to add native support for the feature.
For the moment, DIGITS is in limited beta testing for T-Mobile customers. If you're interested in signing up, you can apply here. There's no word yet on when DIGITS will get a full launch or if it will cost anything when it arrives, but we should be finding out those details shortly.
SOURCE: T-Mobile