T-Mobile's Dell Streak 7 unveiled with Tegra 2 & HSPA+ [Video]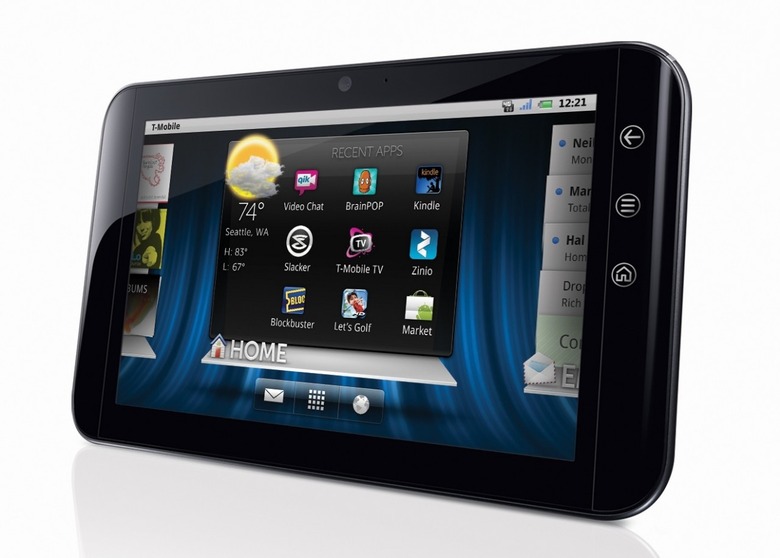 Dell has officially announced the Dell Streak 7 tablet, which will land on T-Mobile USA in "the coming weeks" and take advantage of the carrier's 4G HSPA+ network. The Streak 7 has a 7-inch touchscreen covered in toughened Gorilla Glass, and runs NVIDIA's dual-core 1GHz Tegra 2 processor.
There's also WiFi and Bluetooth 2.1, along with a 1.3-megapixel front facing camera for video calls, and a rear camera for photography. Flash Player 10.1 is supported, and the Streak 7 is capable of up to 22MB/s on T-Mobile's HSPA+ network.
No word on pricing at this stage, but T-Mobile says the Streak 7 will arrive on its network imminently. Nor do we know if Dell plans to update the Streak 7 to Android Honeycomb; it will apparently launch with 2.2 Froyo.
T-Mobile Doubles the Speed of America's Largest 4G Network and Introduces Its First 4G Tablet: the Dell Streak 7

LAS VEGAS, Nev. and BELLEVUE, Wash. — Jan. 6, 2011 — Today at the 2011 International CES, T-Mobile USA CEO and President Philipp Humm highlighted the company's network leadership, supported by Nielsen data confirming that T-Mobile delivered the fastest wireless data performance in the top 100 U.S. markets during the second half of 2010.1 In addition, Humm announced the nationwide availability of T-Mobile's 4G network, now reaching approximately 200 million people in 100 major metropolitan areas.

"In 2010, we delivered on our ambitious goal to become America's largest 4G network, and this year our customers will be able to experience speeds equivalent to home broadband while on the go," said Humm. "We'll continue to focus on fueling the adoption of mobile data, by offering innovative and affordable smartphones and tablets, as well as aggressive data plan pricing and rich and compelling data services."

T-Mobile also unveiled plans to double the speed of its 4G network this year, which will be capable of delivering peak download speeds of up to 42 Mbps. Moreover, the company announced that in 2011 it will launch at least 25 new 4G devices, starting with its first 4G tablet — the Dell™ Streak 7, expected to be available at T-Mobile stores across the country in the coming weeks. The company vowed to aggressively expand and evolve its 4G smartphone portfolio, launching additional devices capable of delivering peak download speeds of up to 21 Mbps in the first half of 2011, and smartphones capable of delivering peak download speeds of up to 42 Mbps in the second half of the year.

The cutting-edge download speed was demonstrated today by company representatives using a T-Mobile laptop stick developed by ZTE, capable of delivering peak download speeds of up to 42 Mbps and slated to launch in the first half of 2011. By doubling the speed of its 4G network, T-Mobile will offer its customers an unprecedented wireless experience, fueled by improved performance in the use of rich media applications, including creating and sharing mobile content, streaming video, and participating in multi-player gaming and videoconferencing.

The company expects 140 million Americans in 25 metro areas to have access to these increased 4G speeds by mid-2011. T-Mobile's enhanced speed capabilities will also benefit its customers using existing 3G devices for data services, as the backward-compatible network enables 3G devices to achieve their maximum speed performance.

"We are pleased to support T-Mobile as it continues to deploy and develop its 4G network, which today is delivering next-generation speeds and performance to hundreds of millions of customers," said Angel Ruiz, president and CEO, Ericsson North America. "We are confident that HSPA+ will continue to offer a viable and cost-effective alternative to LTE and WiMAX, providing a comparable 4G experience to customers for the foreseeable future. And, with a strong and growing ecosystem of network equipment and handsets, we anticipate that HSPA+ can develop into one of the most advanced technology platforms in the industry."

"Consumers are increasingly embracing the benefits of smartphones, with 80 percent of U.S. mobile customers wanting a smartphone, and as many as 100 million of them not yet having one," said Cole Brodman, chief marketing officer, T-Mobile USA. "Our compelling offering of affordable broadband devices and consumer-friendly data plan pricing will enable customers to step up to mobile data and 4G, and our customers will not pay a toll to ride on our 4G superhighway."

About the Dell™ Streak 7

T-Mobile's first 4G tablet, the Dell Streak 7, is capable of peak speeds up to 21 Mbps to provide a super-fast 4G mobile broadband experience for watching movies and entertainment through preloaded content and thousands of widgets, games and applications available on Android Market™. Running the Android 2.2 operating system, the Dell Streak 7 features a brilliant 7-inch WVGA touch screen with Gorilla® Glass, dual core NVIDIA Tegra 2 processor and full Adobe® Flash® Player 10.1 support.

About T-Mobile USA, Inc.

Based in Bellevue, Wash., T-Mobile USA, Inc. is the U.S. wireless operation of Deutsche Telekom AG. By the end of the third quarter of 2010, approximately 130 million mobile customers were served by the mobile communication segments of the Deutsche Telekom group — 33.8 million by T-Mobile USA — all via a common technology platform based on GSM and UMTS, the world's most widely-used digital wireless standards. Today, T-Mobile operates America's largest 4G network, and is delivering a compelling 4G experience across a broad lineup of leading devices in more places than competing 4G services. T-Mobile USA's innovative wireless products and services help empower people to connect to those who matter most. Multiple independent research studies continue to rank T-Mobile USA among the highest in numerous regions throughout the U.S. in wireless customer care and call quality. For more information, please visit http://www.T-Mobile.com. T-Mobile is a federally registered trademark of Deutsche Telekom AG. For further information on Deutsche Telekom, please visit www.telekom.de/investor-relations.

For more information about T-Mobile's 4G products, please visit http://www.t-mobile.com.

1 Source: The Nielsen Company estimation based on an independent benchmark. Nielsen's benchmark tests included the following networks: AT&T-HSPA, Verizon-EVDO-RevA, Sprint-EVDO-RevA, and T-Mobile-HSPA+. The tests were conducted between May 28, 2010, and Nov. 30, 2010. Results do not reflect all commercially available services in the market, including AT&T's HSPA+, Clearwire's WIMAX and Verizon's LTE networks. Copyright (2010) The Nielsen Company.

Home broadband speeds vary widely, and speed boosts for 3G devices vary based on device capability. T-Mobile's HSPA+ 4G network not available everywhere. For more information about T-Mobile's 4G services, mobile broadband products, device features, or the offers and services mentioned, see http://www.t-mobile.com/coverage.
Press Release:
Today at 2011 International CES, Dell and T-Mobile USA, Inc. unveiled Dell's new 7-inch Android™ tablet, the Streak™ 7, both companies' first 4G* capable tablet specifically designed for the super-fast mobile broadband speeds of T-Mobile's 4G network. The sleek compact form of the Streak 7 combined with T-Mobile's super-fast 4G mobile broadband network make it the ultimate entertainment hub for families and consumers craving a rich multimedia and web experience both at home and on-the-go.

Portable, passable and easily shared, the Streak 7's brilliant seven-inch WVGA touch screen with Gorilla® Glass is ideal for Web browsing, streaming video, watching TV and movies, reading books and magazines or playing games virtually anytime, anywhere. The Streak 7 features Google's™ Android 2.2 operating system, a dual core 1GHz NVIDIA Tegra 2 processor and full support for Adobe® Flash® Player. Preloaded with a variety of compelling content and applications from

T-Mobile, the Android-powered tablet also has access to more than 100,000 applications, games and widgets from Android Market™.

In addition to a rich entertainment experience, the Streak 7 easily captures and shares life moments with the rear-facing 5 megapixel camera for high-definition stills and video recording. The front-facing 1.3 megapixel camera with the preloaded Qik™ Video Chat application provide video-calling over T-Mobile's network as well as Wi-Fi to enable spontaneous connections with family and friends.

"Dell is continuing to create the very best in entertainment, mobile and gaming experiences," said Steve Felice, president of Dell's Consumer, Small and Medium Business unit. "With Streak 7 on the blazingly fast T-Mobile network, families, students and mobile professionals will gather, share, and find new ways to interact and keep in touch."

"We're proud to bring consumers our first 4G tablet, a milestone for T-Mobile, Dell and the industry," said Cole Brodman, CMO, T-Mobile USA. "As tablets change the way we consume content, T-Mobile's combination of 4G speeds, breadth of our 4G network, our affordable data plans and compelling new products like the Streak 7 place us in a position to offer the best experience and value for our customers."

The new Streak 7 will feature Dell's innovative Stage user interface, which provides a seamless and unified experience for accessing all your favorite content. Later this year, Dell will add syncing to Stage so people can keep their photos, contacts, calendars and other personal content synchronized across their Dell Stage-equipped devices, from tablets to PCs, connected through their home network.

T-MOBILE ENTERTAINMENT AND CONTENT:

The Dell Streak 7 also comes preloaded with unique content and applications to entertain the whole family, including:

T-Mobile TV: live and on-demand TV including live news, sports and full-length entertainment, plus on-demand full episodes of your favorite shows.

BrainPOP: animated educational content embraced by students and trusted by teachers and parents around the globe. BrainPOP brings learning to your fingertips.

Zinio: the largest online newsstand, enabling customers to shop for, search inside, read, share and save digital content in new ways with more than 75,000 digital magazines from 26 countries.

Qik Video Chat: connect with friends and family through T-Mobile's network and Wi-Fi, unlike some other video-calling solutions that only work through Wi-Fi. With the Streak 7's front-facing camera paired with Video Chat through Qik, customers can hold video conversations with those who have a Streak 7, or other compatible mobile device, and even broadcast their view through the rear-facing camera.

Additional entertainment applications including Blockbuster, Kindle for Android, Let's Golf demo, Slacker Radio and Zoodles.

AVAILABILITY INFORMATION:

The new Dell Streak 7 Tablet is expected to be available in the U.S. in the coming weeks at T-Mobile retail stores, www.t-mobile.com, and direct from Dell.

FEATURES & SPECIFICATIONS:

Brilliant seven-inch WVGA (TFT) touch screen display with Gorilla Glass

Android 2.2 (Froyo) with Android Market

Qik video chat with built-in front-facing 1.3-megapixel webcam

Stage User Interface – easy access to the stuff you care about

Built-in support for T-Mobile's 4G mobile broadband network and Wi-Fi

Dual core 1Ghz NVIDIA Tegra 2 processor

SMS/MMS, SWYPE® virtual keyboard and stereo Bluetooth 2.1 capable

Support for Adobe® Flash® Player

Support for Microsoft® Exchange e-mail, contacts and calendar

16 GB of internal memory and SD Card slot with support for expandable memory up to 32 GB

Dimensions: 7.87" x 4.72" x 0.49"

Streak 7 adds to Dell's rapidly expanding mobility portfolio and represents the first 4G tablet for T-Mobile's robust mobile broadband product lineup.