T-Mobile welcomes the Samsung Gravity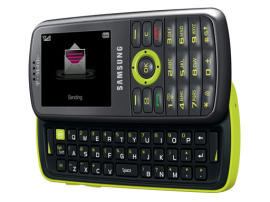 T-Mobile is still in the process of pushing out the promised line of devices just in time for the holidays. The latest device to finally make it to the eager hands of customers is the Samsung Gravity. This handset is the perfect solution for text messaging freaks on a budget with the full slide-out keyboard.
You can now pick the Gravity up at T-Mobile retail locations in aqua and white or lime and grey.  The Gravity is a full-featured handset with plenty of features including, MMS, email support, video messaging and built in instant messaging support. Supported instant messaging clients include AOL instant messenger, ICQ, Windows Live and Yahoo! Messenger.
The Samsung Gravity also includes Stereo Bluetooth, a music player with supports for MP3, AAC and AAC+ audio files, microSD card slot for memory expansion up to 4GB and 1.3-megapixel camera with 4x zoom and video capture. You can pick up the Samsung Gravity from any T-Mobile retail location today for $49.99 with a two-year service agreement.