T-Mobile webConnect 3G modem & memory stick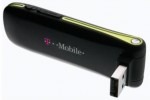 T-Mobile have announced a USB 3G modem, the webConnect laptop stick, which promises both triband 3G HSDPA and WiFi b/g.  Manufactured by Huawei, the modem also has a microSDHC card slot for adding up to 8GB of storage.
T-Mobile USA's 3G coverage currently serves more than 130 cities, with an additional 100 cities expected by the end of 2009.  In areas without either 3G or WiFi (which the webConnect can automatically switch between) EDGE/GPRS will be used instead.
The T-Mobile webConnect USB Laptop Stick is available with 12 or 24 month contracts.  It'll set you back $49.99 with the 2-year agreement, $99.99 with the 1-year agreement, or $249.99 with no contract at all.  As for tariffs, $59.99 gets 5GB of data per month, with unlimited HotSpot access thrown in for good measure; each extra 3G MB costs $0.20.
Press Release:
T-Mobile USA Launches 3G webConnect USB Laptop Stick

T-Mobile meets customer demand for broadband access out of the home and on the go

Today T-Mobile USA, Inc., announced the availability of the T-Mobile webConnect™ USB Laptop Stick, providing customers with seamless connectivity to the Internet on the go via Wi-Fi or T-Mobile's 3G wireless broadband service.

The new webConnect laptop stick, manufactured by Huawei Technologies Co., Ltd. (Huawei), allows customers with a laptop to take advantage of faster broadband speeds available through

T-Mobile's 3G high-speed data network (HSDPA) and accessible Wi-Fi (802.11 b/g) network, which includes access to more than 10,000 convenient locations across the U.S. in the T-Mobile® HotSpot Network. Customers simply plug the webConnect laptop stick into their laptop and the built-in Connection Manager software automatically finds the best available Internet connection. Accommodating up to 8 GB of installable memory, the webConnect laptop stick also provides portable storage for documents, music or movies — eliminating the need for an additional USB memory stick.

"Our customers are increasingly accessing a wider variety of information, entertainment and services through their laptops while on the go," said Jeremy Korst, director, broadband products and services, T-Mobile USA. "The T-Mobile webConnect USB Laptop Stick provides a true plug-and-play experience for customers to stay connected — virtually anytime, everywhere on the T-Mobile-owned network."

With tri-band 3G connectivity, the webConnect laptop stick is compatible with mobile broadband networks worldwide, making it an ideal choice for international travelers. For use in areas where 3G coverage is not yet available, the webConnect laptop stick is also compatible with T-Mobile's nationwide EDGE network as well as EDGE/GPRS frequency bands used worldwide.

T-Mobile USA continues to aggressively expand its 3G wireless broadband services, and the company's 3G high-speed data network is available in more than 130 U.S. cities as of the end of 2008. In 2009, the company plans to double the population currently covered by its high-speed network to reach more than 200 million people in the U.S., which includes expansion to an additional 100 cities by the end of the year.

Customers can purchase the webConnect laptop stick online at http://www.T-Mobile.com and at T-Mobile retail stores and select third-party stores in cities where T-Mobile's 3G service is currently available. For a list of cities where T-Mobile 3G service is available, information on

T-Mobile's selection of 3G phones, or to see T-Mobile's Personal Coverage Check tool, please visit http://www.T-Mobile.com/Coverage.

Domestic roaming on cellular networks is not available. International rates apply to international usage. See http://www.T-Mobile.com for details.