T-Mobile 'Uncarrier 8.0' borrows from Facebook with web chat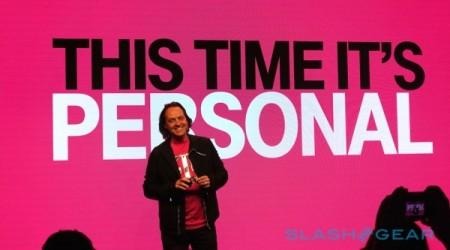 Here we go again! T-Mobile has announced their next 'Uncarrier' event today, bringing their staged industry disruption to level 8.0. Sadly, there's no details or hints that we can go from to speculate on what might be happening this time around, but we're also not going to have to wait long. The event is happening tomorrow morning, and is kind of a fireside chat with CEO Legere. T-Mobile's announcement notes you can ask questions of Legere via Twitter, and he'll answer some via the broadcast chat.
The event won't have attendees this time, as T-Mobile is instead opting to broadcast it all on the web. They've not provided a direct link to the chat just yet, but we know what time it will all go down. If you've got nothing going on at 10:30am EST (7:30 PST), you can tune in and watch Legere needlessly curse for yourself.
To be part of the discussion, send questions via Twitter to '@TMobile', and use the hashtag '#Uncarrier8'. They obviously won't answer all queries, but its worth a shot.
We've seen this broadcast Q&A happen to great aplomb lately with Mark Zuckerberg and Facebook, where the CEO answers questions from staff as well as fans. T-Mobile seems to have picked up on that, here, which is a pretty responsive tool that engages users or customers. Also, Legere is a pretty affable guy, so it should be a ton of fun.
T-Mobile has been on a bit of a tear with Uncarrier, bringing in WiFi calling to their customers of late along with things like free international data when traveling abroad. We've also got an increasing list of streaming services that don't count against data caps, and T-Mobile is working hard to build out their service via spectrum auctions as well.
Source: T-Mobile