T-Mobile UK and Orange merge to create biggest UK carrier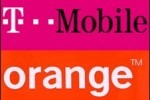 UK carriers Orange and T-Mobile have announced plans to merge, in a deal that will leave them the country's largest mobile phone firm.  The two carriers will maintain separate front-end operations for the next eighteen months, while their branding is examined presumably in preparation for a merge, but in the background they will share network infrastructure and are promising customers improvements in quality and coverage.
The deal – about which it's said will cost £600m to £800m to fully integrate the two companies – will eventually see savings of around £445m per year by 2014, according to spokespeople from the carriers.  It will also give the combined carrier 28.4m customers, or 37-percent of the market.  However there has been no word of what staff cutbacks might be expected.