T-Mobile turned a semi-truck into a futuristic 5G showroom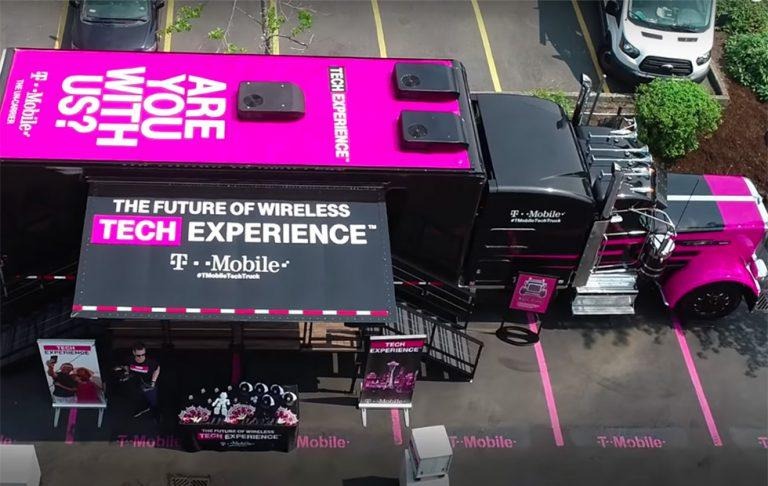 T-Mobile is getting people hyped for a future where everything is connected by 5G networks. The carrier has installed a showroom demonstrating the technology in a semi-truck trailer, announcing a plan to drive the truck to various US destinations. Once it arrives in their city, residents can check out the showroom to experience the future of wireless tech.
The T-Mobile Tech Experience Truck is starting its trip in Bellevue, Washington, where the Uncarrier has an interactive destination showcasing its latest technology. Called Tech Experience, the new innovation center is located within T-Mobile's Launch Pad, the company's tech lab.
Uncarrier CEO John Legere talked about the lab, saying:
The T-Mobile Launch Pad lab is the heart of our network innovation and cutting-edge technology. It's where our engineers design America's fastest 4G LTE network, disrupt the industry, and continue to help architect the future of wireless. 5G is becoming a reality in this building, and everyone's invited to witness it and to see the future for themselves!
Tech Experience educates visitors on the benefits of 5G, among them being ultra-fast speeds and low latency, as well as a greater capacity for our increasingly connected world. Guests are given hands-on access to experiences, as well as real-world demonstrations of the technology. Among other things, the Uncarrier is bringing smart cities to life using interactive displays.
Assuming you aren't located in Bellevue, WA, you may still have the chance to experience some of this technology via the mobile version of the showroom, the Tech Experience Truck. T-Mobile has dozens of stops planned for the mobile showroom, which it will be driving throughout the country over the next year. Though it hasn't listed all of its planned stops, T-Mobile says interested visitors can keep tabs on its location using the #TMobileTechTruck hashtag.
SOURCE: T-Mobile