T-Mobile to boost unlocked iPhone support starting January 30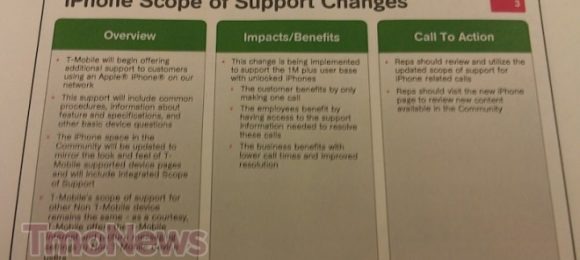 T-Mobile is home to more than a million iPhone users despite still being denied an official iPhone deal with Apple. These unlocked iPhones only have access to T-Mobile's slow 2G EDGE network and that isn't about to change, but the carrier is planning to improve customer support for these users starting January 30.
According to a leaked internal document obtained by TmoNews, the carrier plans to add iPhone support that includes "common procedures, information about feature and specifications and other basic device questions." Also, iPhone support pages will be created and integrated with current T-Mobile Community support pages.
Unlocked iPhone users will benefit by being able to make just one call to reach support, while employees will have access to the support information they need to resolve issues more quickly. However, the poor 2G EDGE network experience and the lack of data plans will persist as long as iPhone hardware continues to lack support for T-Mobile's WCDMA 1700/2100 band.
[via TmoNews]