T-Mobile Shadow by HTC and Nokia 7510 announced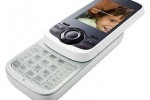 T-Mobile have announced the new Shadow, by HTC, a compact smartphone with Windows Mobile 6.1, a slide-out SureType-style 20-button keyboard, WiFi and support for T-Mobile's HotSpot VoIP service.  Available today, in "white mint" and "black burgundy", the T-Mobile Shadow has a QVGA touchscreen and a 2-megapixel camera.
In fact the Shadow is the first Windows Mobile phone to support the T-Mobile HotSpot service, which offers unlimited VoIP calls over WiFi (with the relevant mobile plan, obviously).  The T-Mobile Shadow is priced at $199.99, with a new two-year contract.
T-Mobile have also announced the Nokia 7510, a flip-phone with a 2-megapixel camera and WiFi.  It, too, can use the HotSpot VoIP service, and is available now.  The Nokia 7510 is priced at $49.99, with a new two-year contract.
Press Release:
Share Life's Fun Moments With the Launch of the New T-Mobile Shadow

Latest "All-in-One" Device Features Support for T-Mobile Unlimited HotSpot Calling, a More Powerful Processor and a Curvier Design

BELLEVUE, Wash. — Jan. 28, 2009 — Today, T-Mobile USA, Inc., announced the availability of the new T-Mobile® Shadow™. Featuring a more rounded and compact design with two new color options, support for T-Mobile Unlimited HotSpot Calling, and increased processing power, the new Shadow is the perfect device for sharing life's special moments.

Available exclusively from T-Mobile, the Shadow is designed to significantly reduce the complexity often associated with many feature-rich devices, while maintaining the powerful calling, messaging and picture-sharing capabilities people crave to keep them connected. The Shadow is powered by Windows Mobile 6.1 and is the first Windows-based phone to provide support for T-Mobile's Unlimited HotSpot Calling service,* which provides great mobile coverage at home and unlimited nationwide calling from Wi-Fi networks, including T-Mobile HotSpot locations across the country.

With a navigation wheel, a slide-out 20-key QWERTY keypad with predictive text, and a large, vibrant screen, the Shadow was built to make popular calling, messaging and picture-sharing features quick and easy to use. The radiant display lets you view and share photos taken with the 2.0 megapixel camera, surf the Web and watch movies on the crisp QVGA display. The Wi-Fi Web browser allows you to feed your discussions in real time, while the enhanced multimedia capabilities provide an entertaining, top-screen way to share your favorite music.

"The T-Mobile Shadow provides customers with a variety of ways to easily stay connected — whether it's calling their loved ones with one of T-Mobile's unlimited calling services, e-mailing friends or sharing family photos," said Travis Warren, director of device marketing, T-Mobile USA. "We're excited to bring a new, very attractive and stylish design and two new colors to the T-Mobile Shadow lineup."

The T-Mobile Shadow, designed and manufactured by HTC, comes ready with a more powerful processor for faster access to the information you need. The new Shadow also features a larger battery for more talk time, an improved photo album to easily view and share photos, and enhanced messaging capabilities, such as threaded short message service (SMS) and copy/paste functionality.

The T-Mobile Shadow is available in two fashionable colors, white mint and black burgundy, at select T-Mobile retail stores, partner stores and online at www.t-mobile.com.

* Unlimited nationwide Wi-Fi calling requires Unlimited HotSpot Calling mobile plan, broadband Internet connection and wireless router. Regular plan minutes are used when call does not originate on Wi-Fi network. For more information on T-Mobile Unlimited HotSpot Calling, visit http://www.t-mobileathome.com. Use of some device features may require a specific plan and incur separate, additional charges. Video recording requires a microSD/SDHC storage card. See T-Mobile.com for rate plan information, charges for features and services, and other details.