T-Mobile set to get Cliq XT, HTV HD2, and Nokia Nuron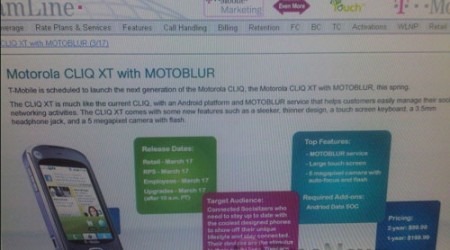 Well if you are a T-Mobile subscriber that has been waiting for some new devices to hit the network, there are three coming soon. The mobile network will be getting the Cliq XT, HTC HD2, and the Nokia Nuron devices.
The Cliq XT is set to hit on March 17 at a price of $99.99 with a new contract. The device is one of the cheaper Android handsets on the network. The HTC HD2 is landing at T-Mobile on March 24 with a price that is not announced at this time.
If the HTC HD2 doesn't float your boat, the Nokia Nuron is also coming on the same day. Starting on March 24 the Nuron will be available for $69.99 on a 2-year contract and $179.99 not on a contract. The Nuron was first rumored to be turning up this week, but the date was pushed back.