T-Mobile Samsung Galaxy S II gets official price and date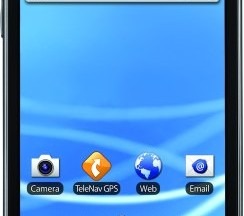 At the GigaOM Mobilize 2011 event today, T-Mobile unveiled two new smartphones during its keynote, one being the HTC Amaze 4G and the other being the long anticipated Samsung Galaxy S II. Although the device was first announced back in August, many details on T-Mobile's version of the popular Samsung handset remained a mystery. Hence, the carrier took this opportunity today to reveal and confirm some additional details.
One of the specs that seemed to noticeably be left out of T-Mobile's Samsung Galaxy S II marketing materials thus far was the type of processor. Rumors had spread earlier this month that the T-Mobile Samsung Galaxy S II would sport a powerful 1.5 GHz dual-core processor, and that turns out to be true. The carrier confirmed today that its Samsung Galaxy S II will be powered by a 1.5Ghz dual-core Qualcomm Snapdragon S3 processor. The handset will come running Android 2.3.5 Gingerbread and will have NFC enabled.
The device will also allow customers to access various mobile entertainment services including Netflix, T-Mobile TV, and in Mobile HD2, Samsung Media Hub, and YouTube. It will support DLNA and HDMI-out for compatibility with most HD TVs and its 4.52-inch Super AMOLED Plus touchscreen will make it the largest screen available right now to T-Mobile customers.
The T-Mobile Samsung Galaxy S II will be available for pre-orders starting October 10 and will be available T-Mobile retail stores and select dealers starting October 12. The device is priced at $229.99 with a new two-year contract and after a $50 mail-in rebate.