T-Mobile quietly launching 5GB, 10GB data plan deal on January 25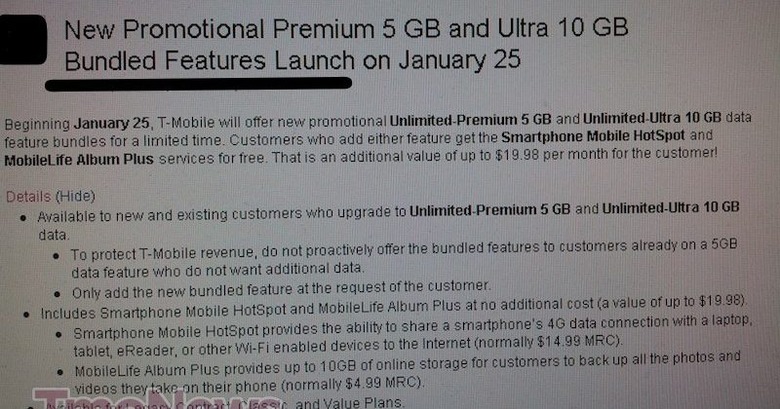 T-Mobile is preparing to launch Unlimited Premium 5GB and 10GB data plans that can have Smartphone Mobile Hotspot and MobileLife Album Plus services added on for free, according to a leaked memo obtained by TMoNews. The promotion will be launched quietly, meaning the company won't actively promote the deal and the additional free services are only included if customers ask for them.
The Smartphone Mobile Hotspot service lets you share your 4G connection with multiple devices and usually costs about $15 per month. The MobileLife Album Plus service lets you backup photos and videos to the cloud with up to 10GB of storage for about $5 a month. With the upcoming promotion, you'll be able to get both for free if you sign up for either the Unlimited Premium 5GB or 10GB data plans.
The deal will kick off on January 25 and will be available for a limited time. Both new and existing customers on a legacy contract, classic, and value rate plans can take advantage of the promotion. However, the cost to upgrade to the new plans has not been revealed yet.
[via TMoNews]