T-Mobile Now Offers Micro-SIM Cards For iPhone 4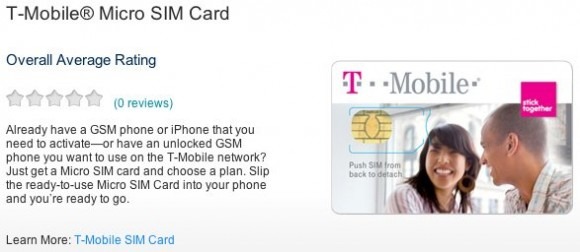 T-Mobile is now offering a micro-SIM card for customers wanting to use unlocked iPhone 4 handsets on its network. This move shows that T-Mobile is not only embracing unlocked iPhone 4 users, but may also be getting ready for the upcoming iPhone 4S or iPhone 5 that's rumored to be available to the two major carriers that have so far been without an official iPhone deal.
There are more than 1 million unlocked iPhone handsets on the T-Mobile network, but mostly older models that use full-sized SIM cards. When the iPhone 4 introduced micro-SIM cards, it became more of a hassle for customers as they'd have to trim down their full-sized T-Mobile SIM cards to fit. Now, the carrier is directly offering micro-SIM cards as a solution and even listed them for free if ordered online. They are otherwise $9.99.
However, the unlocked iPhone 4 only works on T-Mobile's GSM and 2G EDGE networks, its 3G and 4G HSPA+ are not supported. But that may change soon, as rumors have been ongoing that Apple's next-generation iPhone, be it the 4S or the 5, will be made available to T-Mobile and the Now Network carrier. The new handset will likely be announced in September. In the meantime, you can order a free micro-SIM for your unlocked iPhone 4 here.
[via BGR]