T-Mobile music party to follow Google Music event tonight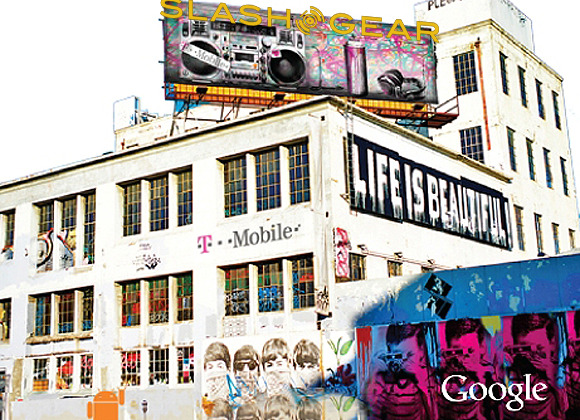 This week is just full of surprises, the latest being the event which press has been invited to tonight directly following the Google Music event earlier in the day (2PM PST to be exact.) What this newest party is set to play host to is several musicians doing their thing while Google revels in the background from their Google Music update we're suer to see soon and T-Mobile hangs out on the sidelines. For the most part we expect this to be audio driven, but given that the building you see below sitting on the invite is easily identifiable as Mr Brainwash Studios, we may well see some artwork as well!
You may remember Mr Brainwash from his appearance in the Banksy movie "Exit Through the Giftshop" where the graffiti master notes that it was Brainwash that became much more interesting to do a documentary about when it was he himself that was supposed to be the main subject. That said, we're pretty lost as to why Brainwash's studio would be the host of such a prestigious event. That said, a lot of people do think the guy's an art genius, and I'm pretty sure the innards of his studio do look rather colorful – so we'll see!
We're more than likely not going to get much out of the event in the way of products, instead focusing on the awesome party aspecs and Busty Rhymes on the stage. See you then, and don't forget to join us at 2PM PST when we hit up the main event surrounding Google Music. More than likely we'll get some hands-on time and certainly some photos of the action you wont find anywhere else, so no jumping out!