T-Mobile G1 Aka Android HTC Dream Diagrams Leak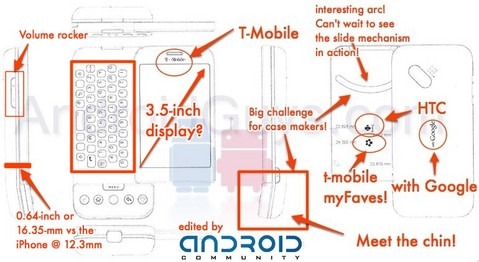 An engineering drawing of T-Mobile's G1, the upcoming HTC Dream smartphone running Google's Android mobile platform, has emerged, confirming some of the details that so far have been merely rumors.  As you can see in the annotated diagram below, the G1 will measure approximately 16.35mm thick; that's around 4mm thicker than the iPhone 3G.
However the iPhone 3G doesn't have a full QWERTY keyboard, which the G1 hides under a slide out display.  Going by what looks to be a track for the slide mechanism itself, it appears to move in a swooping curve, rather than in a straight line.  There's also a large "chin" section at the bottom, with shortcut keys and the trackball.
Logos include the phrase "with Google" on the back, together with HTC's logo and the T-Mobile myFaves icon.  It'll be interesting seeing how case manufacturers deal with the somewhat unusual build of the G1, short of making a fully sectional case that clips separately to the screen and to the rest of the body.
[via AndroidCommunity]