T-Mobile Event "Come Experience The HTC HD2 With T-Mobile On March 16", Release On 24th?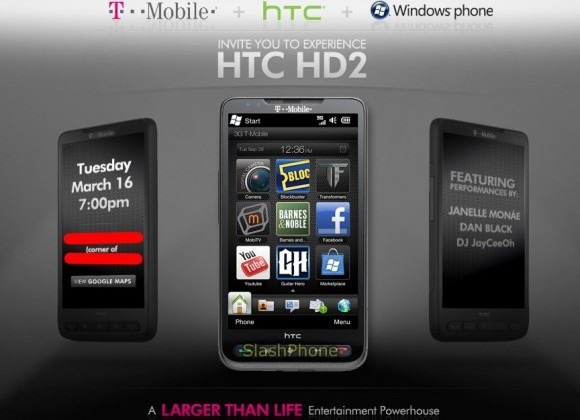 T-Mobile has just invited SlashGear to join them for a special event scheduled for March 16th (next week in NYC) to "experience the HTC HD2," which will be making its debut as a "larger than life entertainment powerhouse."  Bold words?  Check out our take in a comprehensive review of the HTC HD2.  Oh, and we're hearing that the launch date of the smartphone will be more or less around the 24th, so stay patient for just a little longer, it's coming.
Bringing you a brief reminder on specs (for those who haven't memorized them by now); the HD2 is equipped with a 1GHz Snapdragon processor, a gorgeous 4.3-inch capacitive touchscreen supporting multitouch at 800 x 480 WVGA, WiFi, Bluetooth and HSPA.  It runs Windows Mobile 6.5

with HTC's own Sense-inspired UI on top, and has a 5-megapixel camera with autofocus and dual-LED flash.
[via SlashPhone]