T-Mobile document: unlocked iPhones have poor network performance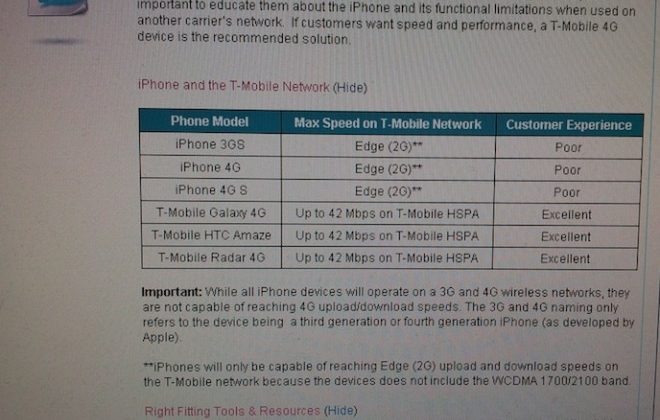 A leaked internal document from T-Mobile shows that there's a good reason it remains the only major carrier left out of the iPhone race. Although one million customers have still managed to take their unlocked iPhones on the T-Mobile network, the company seems far more interested in peddling its superior-performing Android products. That is, at least for the time being.
According to the document, "iPhones will only be capable of reaching Edge (2G) upload and download speeds on the T-Mobile network because the devices does not include the WCDMA 1700/2100 band." So the current iPhone architecture just doesn't work with T-Mobile's network. Period.
The carrier classified the experience as "Poor" for anyone using an iPhone 3GS, iPhone 4, or iPhone 4S on T-Mobile. Meanwhile, it grouped its high-end Android phones as all delivering "excellent" customer experiences. As such, the internal communication goes on to tell its employees to "free" customers from the iPhone and "right-fit" them to an Android HSPA+ compatible device.
Of course, it's believed that Apple will, in time, tailor an iPhone to T-Mobile's specifications. And of course, at that time, T-Mobile will start bending over backwards to peddle the Apple gadget to everyone. That's just the way the world works. For now, though, if you're stuck in T-Mobile contract land, you'll just have to wait.
[via TmoNews]