T-Mobile details faster 4G, Unofficially welcomes iPhone 5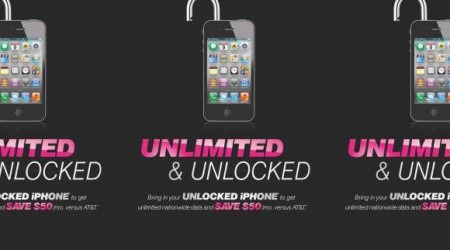 The folks from T-Mobile have been making a lot of noise regarding the iPhone 5 as of late, even though they don't offer it themselves. After we've seen countless announcements and leaks from the carrier showing their plans to support the iPhone 5, today they've detailed it yet again promising faster 4G HSPA+ speeds on the iPhone.
Now T-Mobile states just iPhone, and that is because the flood of users upgrading to the iPhone 5 will be selling their iPhone 4 and 4S smartphones, and T-Mobile is looking to lure some of those buyers to their network. With talk of an enhanced and refarmed 1900 Mhz 4G HSPA+ spectrum, T-Mobile is promising the fastest speeds for the iPhone — not counting LTE.
This is a huge part of T-Mobiles $4 billion dollar plan to increase and refarm their network across the US, and one thing many aren't remembering is this is for more than just the iPhone. All those unlocked international devices — and those from AT&T — will all work on this new and improved option from T-Mobile with more than just 3G speeds. You'll have full blazing fast 4G HSPA+ speeds that are quite speedy while T-Mobile works to launch 4G LTE early next year.
T-Mobile is claiming this restructuring and improvement to their network is going to make it much much faster, stronger, and more dependable. The folks down in Sin City (like me) in Las Vegas will be one of the first to enjoy this complete overhaul, with T-Mobile already updating more than 75% of the cities coverage. They plan to continue this over the next few weeks and months to include Seattle, Washington D.C., Los Angeles, the New York metro area and more soon. With T-Mobile's "Unlocked and Unlimited" plans they offer the iPhone 4, 4S, and 5 something no others do.
T-Mobile stores are ready to move your new or used iPhone over to their network, and even have iPhone 5 nano-SIM cards in-store to do the same with the latest smartphone from Cupertino.
[via T-Mobile Blog]