T-Mobile BlackBerry 8820 Has GPS, WiFi, And HotSpot@Home - Sounds Like A Heck Of A Device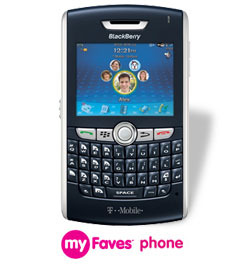 This is a pretty solid corporate level device. It has PUSH email, a QWERTY keyboard, WiFi, GPS, a MicroSD Card Slot, and you can save some minutes by using the WiFi networks at your school, work, and/or home.
However, you get stuck with GPRS/EDGE for data when you aren't near a WiFi network, which is more than sufficient for the integrated mail app, but internet surfing is likely to be abysmal. I must concur with Mr. Davies on this one, it is very nice to finally see a new BlackBerry that isn't a Pearl and doesn't have the words "Pearl" or "Curve" or "World Edition" in the title, I like it when already amazing devices return back to the basics.
There is however no camera, which for those of you that work for paranoid companies, this can be viewed as a plus, otherwise it might not be the best news you've heard, but this is still an amazing device, and if I wasn't holding out for the 3G iPhone, I'd probably go buy one of these. It is available in stores today, the online price is $349 after the singular $150 price discount, but you can probably haggle that down in-store if you buy some accessories and a good plan to go with it.
[via PhoneMag]