T-Mobile begins prepping employees to sell 'against the iPhone'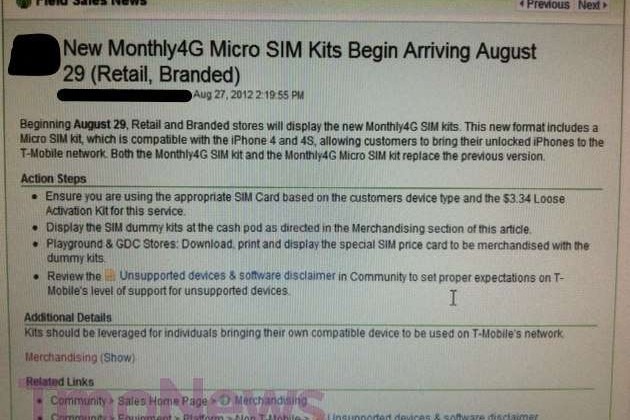 Like many other carriers, T-Mobile is gearing up for the much-rumored launch of the next iPhone. Unlike other carriers, T-Mobile isn't clearing old stock or figuring out ways to get people into its stores to buy the iPhone 5. Instead, new internal documents uncovered by TmoNews show that the company will be training employees for "selling against the iPhone."
That pretty much confirms that T-Mobile isn't going to be getting the next iteration of Apple's famous device, but that probably isn't going to shock anyone. T-Mobile lacks the LTE network needed for the next iPhone, so instead of offering that, it will be offering consumers new Monthly4G Micro SIM kits that are compatible with the iPhone 4 and iPhone 4S. TmoNews takes this to mean that T-Mobile will be making some announcements about its network refarm soon.
So, T-Mobile won't be offering the iPhone 5, but one of the ways it's trying to compensate for that is by inviting consumers to bring in their unlocked iPhones and pick up a Micro SIM kit. Aside from giving us a glimpse at some of T-Mobile's plans for the next month, these leaked internal documents also mention the date that everyone has been talking about: September 21.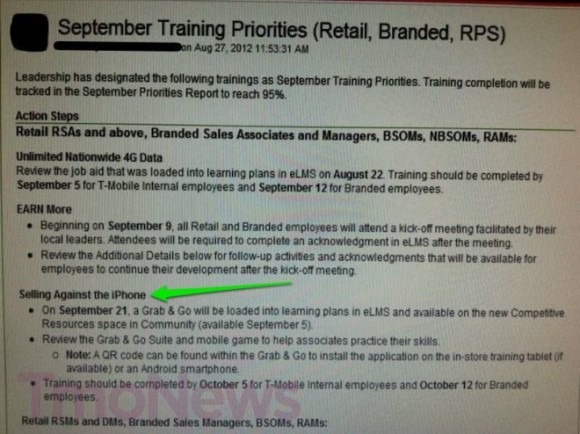 It's on that day that Apple is supposedly launching the iPhone 5, after revealing it at an expected Apple event on September 12. These new training materials meant for "selling against the iPhone" are scheduled to arrive at T-Mobile stores on September 21, which backs up the rumor that the next iPhone is launching on that day. We shall see soon enough, but for now, have a look at our story timeline below to see what else has been going on at T-Mobile lately.