T-Mobile and Sprint merger approved by federal judge, 5G in the wings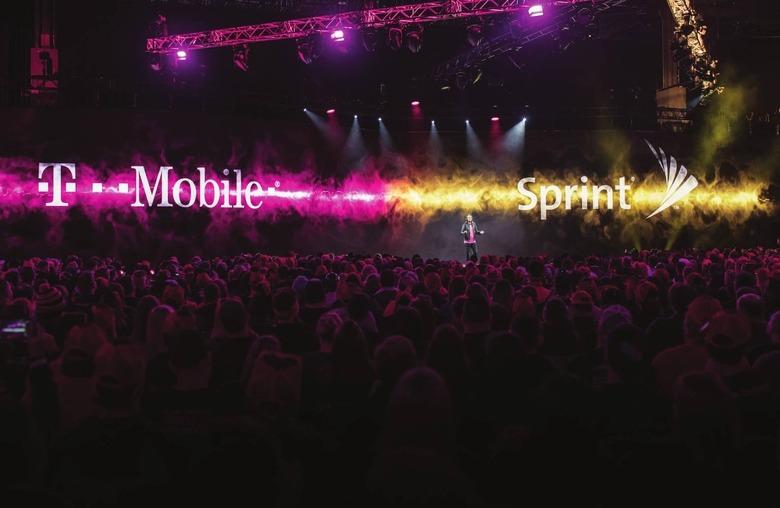 T-Mobile and Sprint are one step closer to becoming one company today after a federal judge ruled in favor of their proposed merger. Though this was an encouraging ruling for the executives at both T-Mobile and Sprint, they aren't out of the woods yet, as the California Public Utilities Commission still needs to approve the merger before it becomes a done deal.
The ruling was delivered by Judge Victor Marrero at the end of a legal battle that saw attorneys general from a number of states challenge the merger. Those attorneys general argued that combining the two carriers into one would stifle competition between the big carriers in the US and potentially raise prices. Sprint and T-Mobile, on the other hand, argued that it would put them in a better position to compete with giants like Verizon and AT&T.
It seems that Judge Marrero agreed [PDF download], noting that T-Mobile's reinvention as the "Uncarrier" sparked pro-consumer responses from both companies. "T-Mobile has redefined itself over the past decade as a maverick that has spurred the two largest players in its industry to make numerous pro-consumer changes. The proposed merger would allow the merged company to continue T-Mobile's undeniably successful business strategy for the foreseeable future," Marrero wrote.
Furthermore, Judge Marrero argued that Sprint would not be able to continue as a viable competitor to the other big three if this merger isn't approved. "The Court is thus substantially persuaded that Sprint does not have a sustainable long-term competitive strategy and will in fact cease to be a truly national MNO," Marrero wrote, noting that if the merger doesn't happen, the US may well wind up with three big carriers anyway as Sprint deprioritizes certain markets and becomes more of a regional carrier.
The attorneys general who brought this case against Sprint and T-Mobile aren't buying those arguments, though. In a statement to CNBC, New York Attorney General Letitia James said that this merger would "endanger" wireless customers. "From the start, this merger has been about massive corporate profits over all else, and despite the companies' false claims, this deal will endanger wireless subscribers where it hurts most: their wallets," James said.
At this point, all T-Mobile and Sprint need is the approval of the California Public Utilities Commission before the merger can be completed. Assuming they're granted that approval, they'll be allowed to merge, but then they'll also need to satisfy a number of stipulations imposed by the Department of Justice and the FCC in exchange for their approval.
Chief among those stipulations is the requirement that they New T-Mobile builds out a 5G network covering 97% of the US population within three years. The two companies will also need to sell off Sprint's prepaid business – which is comprised of Boost Mobile and Virgin Mobile, among others – to Dish Network so it can begin to build out a wireless network of its own. As it does that and T-Mobile works on rolling out its 5G network, T-Mobile must also give Dish access to its network for seven years after the merger closes.
So, it may not be long before Sprint and T-Mobile combine into one company and we see if Dish can build out a network to become a viable competitor to the new big three. Stay tuned, because T-Mobile and Sprint are now within striking distance of the merger they've been working toward for a number of years.