Systemax Releasing 4 New Notebooks Featuring Santa Rosa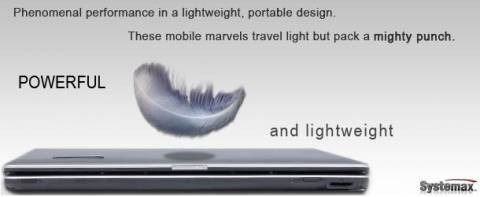 The Medallion XV, Medallion XVII, Pursuit 4165, and Pursuit 4250 are all blessed with Santa Rosa. The two Medallion models are 15.4 (XV) and 17 (XVII) inch models respectively and range in base price from $879 to $1350.
Thankfully, with those two at least, you get your choice of XP or Vista. They also are packing a 1.3MP webcam, and the XVII features nVidia GeForce 512MB graphics, Bluetooth, Stereo speakers complete with a subwoofer, and a piano black finish.
The Pursuit models start at $699 and go up, and are pure business (no party in the back). Once again, you get your choice of XP or Vista, the Pursuit 4250 also comes with the half gig of VRAM and the GeForce chip, a 2MP cam, and a biometric fingerprint scanner.
They all have wireless N and Turbo Memory support (for use with Vista's ReadyBoost tech) as well. You can get your choice of those four notebooks, and more starting today at SystemaxPC.com.
Systemax Introduces Four New Notebooks Featuring the Intel Santa Rosa Chipset [via systemax]