Synology DiskStation DS411slim NAS: up to 4TB in palm-sized box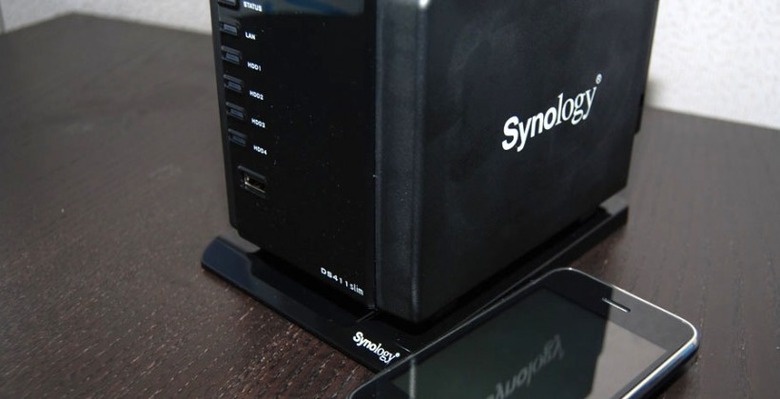 We're big fans of Synology's DiskStation NAS drives and the flexible DSM software they run, so we've high hopes for the company's newest small form-factor model. The Synology DiskStation DS411slim hides up to four 2.5-inch drives in a 120 x 105 x 142 mm chassis for up to 3TB of redundant storage; it's also got a small power footprint, sucking down under 17W under load or 9.6W in hibernation mode.
Up to four 1TB drives can be installed, and thanks to Synology's own Hybrid RAID (SHR) system you can have redundant storage without all of the HDDs being the same capacity. Alternatively there's manual control over Basic, JBOD, RAID 0, RAID 1, RAID 5, RAID 5+Spare, RAID 6 or RAID 10 arrays. External USB or eSATA drives can be added, and there's Amazon S3 support for cloud backup; network connectivity is via a single gigabit ethernet port.
Time Machine integration, bundled PC backup software and DLNA/UPnP streaming wrap up the main functionality, but Synology's management app also means you can turn the DS411slim into an iTunes server, FTP or BitTorrent box, IP camera recorder, printer server (for one or two printers), Squeezebox server, or more. It's also compatible with Synology's iOS and Android remote apps, and the new DSM beta adds Apple AirPrint support.
The Synology DiskStation DS411slim will go on sale in mid-February; pricing will be announced closer to release.
Press Release:
Synology Announces Its Newest Small Form-factor DiskStation, the DS411slim; Now, iPad® App Ready

Redmond, Washington- Synology America Corp. today announced the release of its latest DiskStation for home and small office use, the DS411slim. Using 2.5" drives, the compact form-factor DiskStation allows for full RAID redundancy while minimizing energy usage and noise. Utilizing Synology Hybrid RAID (SHR), users can easily create redundant volumes up to 3TB.The energy-efficient DiskStation consumes fewer than 17 watts in use, and a scant 9.6 watts in hibernation.

The DS411slim boasts a faster processor than the previous DS409slim, and more RAM (now 256MB). These enhancements allow users to do more with their DiskStation and do it more quickly. Like its predecessor, it can still fit in the palm of one hand.

Bundled with Synology's renowned DiskStation Manager (DSM) 3.0, the DS411slim is a feature-rich network attached storage solution, offering numerous tools to home users. In addition to the expected file sharing and backup, DSM 3.0 includes an integrated DLNA-certified media server to effortlessly stream music and videos to compatible media players.

"Don't let the small size fool you. This is a full-fledged NAS server," said Jason Bonoan, Product Marketing Manager at Synology America Corp. "From the breadth of integrated features to the ease of remote access, this comprises an incredible suite of solutions that mere DAS devices just can't match."

Surveillance Station 5, Synology's included network video recorder (NVR) software, lets users quickly turn their DiskStation into a surveillance system. Compatible with over 750 models of IP camera, Surveillance Station 5 makes it easy for home users to monitor their homes when away, for either protection of the premises or as a nanny-cam.

In addition to the depth of features currently offered in DSM 3.0, the upcoming DSM 3.1 (now in public beta) will further expand the capabilities of the DiskStation. Among the enhancements will be:

DS File for iPhone- a new app to ease file access

DS Photo+ and DS Audio are released for iPad to manage photos and stream your entire music collection from the DiskStation

Airprint support- allows wireless printing from iPad/iPhone

For more information, please visit: http://www.synology.com/us/products/DS411slim/index.php

Availability: The DS411slim is scheduled to be available for purchase in mid-February. The price will be announced at its release.