Synology DiskStation DS216 and NVR216 now available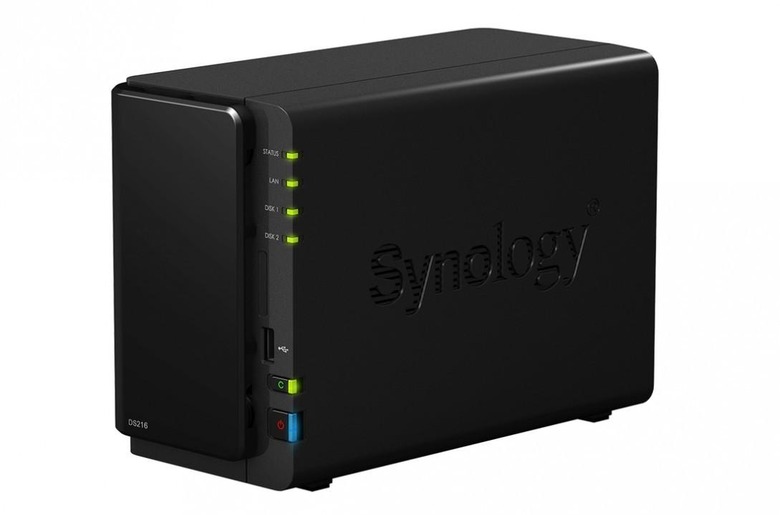 has launched its new DiskStation DS216, an update to its previous DiskStation DS214 model. In addition, the company has also unveiled its new NVR216, a network video recorder with 1080p HDMI output, support for up to nine IP cameras, and more. Both products are available now with the exception of the 4 channel NVR216, which will be available by the end of this month.
The DiskStation DS216 is a 2-bay NAS server designed for small-sized workgroups and offices, bringing with it a Marvell Armada 38X dual-core 1.3GHz processor, 512MB of RAM, and an integrated Floating-Point Unit. The NAS includes an encryption engine designed to take the load off the main CPU resulting, ultimately, in improved transfer speeds. Other features include a USB copy button and a USB 3.0 port. The unit boasts an average reading speed of 111.18 MB/s and writing speed of 112.79 MB/s.
This particular DiskStation runs Synology's DiskStation Manager operating system. The model is now shipping to buyers across the globe.

In addition to the new DiskStation model, Synology has also launched a new network video recorder for retailers and small businesses that need to control a relatively small number of security cameras. The NVR216 comes in two models, one with support for 4 IP camera channels and another with support for 9.
Via an HDMI port, the NVR216 can be hooked up to a monitor that receives feeds from each camera at 720p/30fps. The system features numerous ports, including USB 2.0 and USB 3.0, for directly connecting peripherals. The system allows for video playback from select times and dates, as well as multi-video playback. So-called 'smart' tools like Motion Detection also help pick out sections of video that may be important.