Synaptics USB fingerprint scanner gives any PC biometric security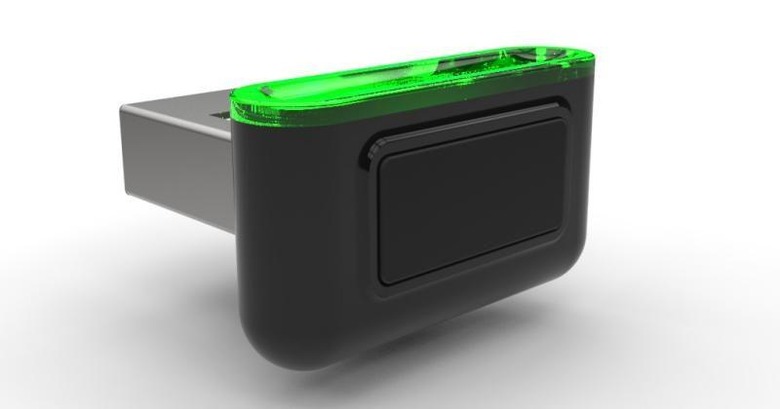 Synaptics is a name known to many in the industry as a company specializing in interface controllers, like laptop touchpads and mobile touchscreens. Lately, it has also been raising its profile in the biometrics markets, making such technology more accessible to device manufacturers and, therefore, users. Last February it announced a fingerprint sensor small enough to fit under a smartphone volume button. At Computex last week, it unveiled a fingerprint USB module that can give any desktop or laptop better security features.
Just a few years ago, fingerprint scanners were more of a novelty on smartphones. Now it's almost on every high-end device, and sometimes even mid-range ones. Although some expensive, enterprise-grade laptops have had fingerprint scanners in the past, it is only now that laptops and desktops are catching up. Still, not everyone is going to buy a new computer just to get a fingerprint scanner, which leaves such users more vulnerable from hacking and phishing attempts.
Enter Synaptics' turnkey USB fingerprint solution. It is as its name says: a fingerprint scanner in a USB module. This way, any computer that has a full-sized USB port can suddenly behave as if it had a fingerprint scanner of its own. It is small enough that it can sit nondescript inside a USB port. Of course, you are sacrificing the use of one port for that purpose. Synaptics also makes no mention of USB Type-C support.
At the moment, very few things outside enterprise settings make use of fingerprint authentication, so this module will mostly benefit enterprise customers. That said, Microsoft has been aggressively pushing its Windows Hello and Microsoft Passport security platforms of late. This Synaptics module then could let users log into their Windows computers and Microsoft accounts at a touch of a finger. It might only be a matter of time before other services, especially those dealing with purchasing and money, will follow suit.
Synaptics plans on starting mass production of the dongle by fourth quarter of the year, which means it won't hit manufacturers and the market until very early 2017.
SOURCE: Synaptics