Synaptics proximity-sensing Digital Photo Frame concept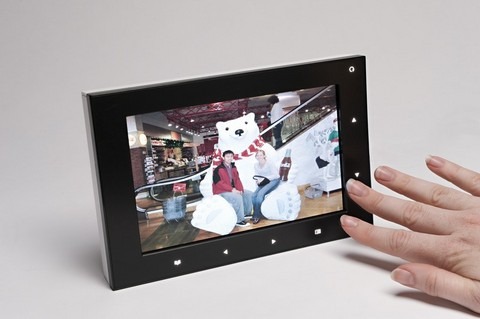 Synaptics – who are behind the trackpads found on many notebook computers – have announced the general OEM/ODM availability of their proximity sensors, which up until now have only been available in Microsoft's Wireless Entertainment Desktop 8000 Bluetooth Keyboard.  The technology recognises user presence and can be linked to controls, backlights and other functionality; in the Microsoft keyboard, for instance, the system goes into standby mode automatically when the user moves away, saving battery life.  Synaptics have created a new digital photo frame, with proximity-controlled touch-sensitive buttons, to demonstrate possible applications.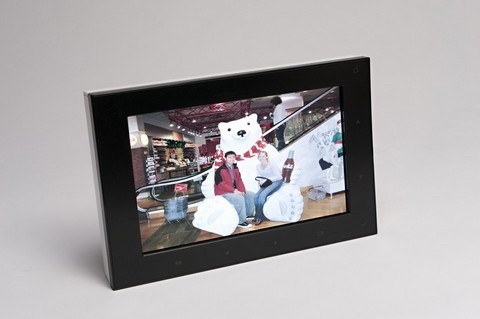 The system could improve usability in products where manufacturers are attempting to minimise control clutter.  For instance, Lenovo's recent IdeaPad U110has a number of touch-sensitive controls, including a volume strip, which illuminate when pressed; some reviewers, however, have highlighted the fact that this leads to poor usability in the dark.  With the Synaptics system, the controls would be lit when the user's hand approached, guiding them in; that would have the same net effect of conserving battery life through avoiding needless constant backlighting.
According to Synaptics, the range within which users are identified can be varied by the OEM designer.  The system is available now, although it seems unlikely that Synaptics would market the photo frame design themselves. 
Press Release:
Synaptics Adds Proximity Sensing Solution to Expansive Product Line, Offering OEMs a New Mode of Interaction for Devices

Proximity Sensing Proves 'No Touch Necessary' for New Interface Technology

TAIPEI, Taiwan – June 3, 2008 – Synaptics Inc. (NASDAQ: SYNA), a leading developer of human interface solutions for mobile computing, communications, and entertainment devices, today announced the general availability of its Proximity Sensing solution, a sensor for presence detection that will redefine the way users interact with their devices.

Synaptics' proximity sensor detects a user's presence, which then activates functions such as LED illumination for discoverable button locations or waking devices from power-saving mode. Proximity sensing technology offers exciting interface design options for OEM/ODM customers.

Proximity sensing can serve several major applications, solving both industrial design and usability challenges. Some of the most obvious applications are LCD monitors, LCD TVs, digital photo frames, and remote controls where industrial design demands a simple and clean appearance. Proximity sensing can also make it easy to find and operate a remote in the dark. When the hand approaches the remote, the LEDs illuminate.

Synaptics' first Proximity Sensing solution was incorporated into Microsoft's Wireless Entertainment Desktop 8000 keyboard. The keyboard intelligently powers on and off its LED backlighting for standby (power saving) and active modes, depending on whether the user is within close range.

"This new capability from Synaptics offers a compelling new user experience for mature products that would benefit from new and attractive interface solution," said Synaptics general manager, Tom Tiernan. "Synaptics' strength in innovation and R&D allows us to bring advanced technology, such as proximity sensing, to the market to enable new modes of interaction with future devices."

Availability: Synaptics' Proximity Sensing solution is now available to all electronic device manufacturers. For more information, visit http://www.synaptics.com/products/proximitysensing.cfm.

About Synaptics

Synaptics (NASDAQ: SYNA) is a leading developer of human interface solutions for the mobile computing, communications, and entertainment industries. The company creates interface solutions for a variety of devices including notebook PCs, PC peripherals, digital music players, and mobile phones. The TouchPad™, Synaptics' flagship product, is integrated into a majority of today's notebook computers. Consumer electronics and computing manufacturers use Synaptics' solutions to enrich the interaction between humans and intelligent devices through improved usability, functionality, and industrial design. The company is headquartered in Santa Clara, Calif. www.synaptics.com