Synaptics ForcePad aims to improve laptop trackpads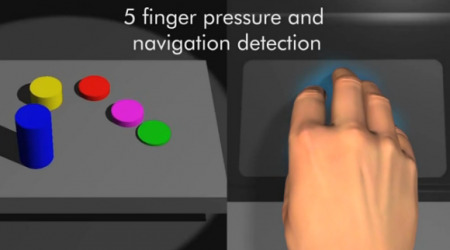 Multitouch gestures on trackpads have become common place on laptops over the past few years, but they're going to get a serious boost with the release of Windows 8. Synaptics is trying to make sure that the user experience will be up to snuff, today demoing its new ForcePad technology. The tech will not only bring improved sensitivity and multitouch gestures to touchpads, but also add support for force detection.
ForcePad will rely on pressure tracking instead of traditional mouse clicks, reducing the thickness of the touchpad as a result. Rather than having one set level for finger tracking, ForcePad will constantly adapt and tune itself, allowing the user to get the best performance possible out of the trackpad at all times. The technology is capable of detecting up to five fingers, and Synaptics is adding support for five new gestures that developers will be able to take advantage of in Windows 8 and apps.
Synaptics gave an interesting example for the force detection use: fast forwarding through a movie. Rather than clicking constantly to increase the speed of the fast forward, users could simply press harder on the trackpad to scroll faster through the movie. Once they let go, the movie would resume playing at normal speed.
The company has introduced a new keyboard technology too, designed for ultrabooks and thin notebooks. Synaptics has dubbed it ThinTouch, with the downpress of keys reduced to 2.5mm. Not only that, but the entire keyboard surface is equipped with a capacitive touch sensor, which could open the door for touch gestures on keyboards as well as the trackpad. Because the keys sit closer to the substrate, backlight levels for individual keys should also be much brighter.
Synaptics says that both technologies should start showing up in notebooks sometime in 2013, but didn't go into details about which OEMs would be making use of the new features. The first ForcePad-enabled laptop should debut at CES 2013, so keep an eye out in January for a demo of the technology.
[via Gizmodo]