Symantec security report reveals attacks up and spam down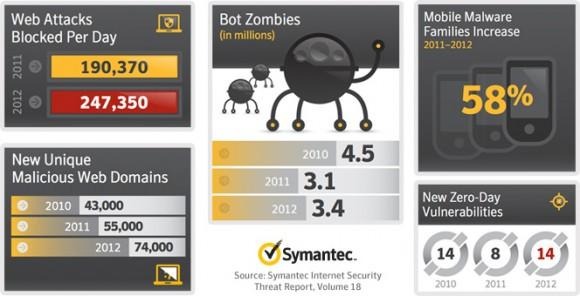 Symantec has published its 2013 Internet Security Threat Report, revealing data about the state of the Internet and the threats in it. According to the security report, small and medium businesses have seen the greatest increase in threats, with over all targeted attacks in 2012 jumping to 42-percent, with 31-percent of those attacks being aimed at companies with less than 250 employees.
According to the report, those who use social networks, particularly Facebook and Twitter, should be careful, with the instances of phishing websites that spoof popular social networks having jumped a huge 125-percent last year. Not all numbers jumped, however, with the amount of spam sent in 2012 dropping to 69-percent of all email sent during the year.
The number of vulnerabilities found last year clocked in at 5,291, with a fair chunk of them – 415, to be precise – being vulnerabilities with mobile OSs. In line with that is the numbers on data theft, with the report stating that 32-percent of the mobile threats resulted in stolen data. The number of web-based attacks also followed the upward trend, jumping 30-percent.
There were 14 zero-day vulnerabilities last year, as well as some big events, including 600,000 Macs being affected by a virus, and a single waterhole attack hit 500 organizations in one day. Other relevant data is contained in the infograph above, which was made by Symantec. Particularly of note is the increase in the number of web-based attacks that were blocked last year over 2011, jumping from 190,370 to 247,350.
[via Symantec]