Switchmate Review - The easiest IoT light upgrade ever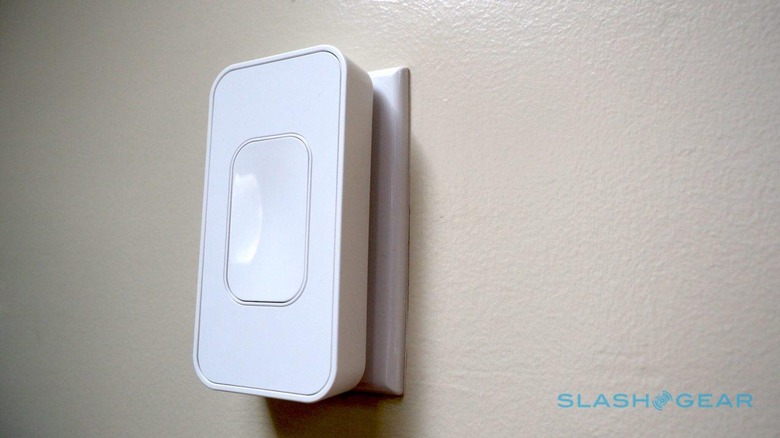 If embracing the smart home has a common first step, it's often remotely-controlled lights, but that can be an expensive, time-consuming, or technical upgrade. Wireless bulbs switch out for their dumb cousins, but equipping every lamp can get expensive; swapping dumb wall switches for wireless versions looks clean but requires screwdrivers and dealing with mains electricity, not to mention potentially incurring landlord wrath. Step forward Switchmate, then, with an alternative that's up and running in mere minutes.
If only every smart home product was this straightforward to install. Slotting in the two AA batteries provided is about as technical as it gets: hold the white plastic block over your light-switch and Switchmate's magnets cling tightly. I had no concerns about a careless brush of my shoulder knocking it off. Unfortunately, the original design – which had a much thinner unit that could be removed from a decorative surround, so that multiple Switchmates could be mounted side by side on multi-switch plates – has been changed, and you couldn't have two adjacent switches each equipped by a Switchmate.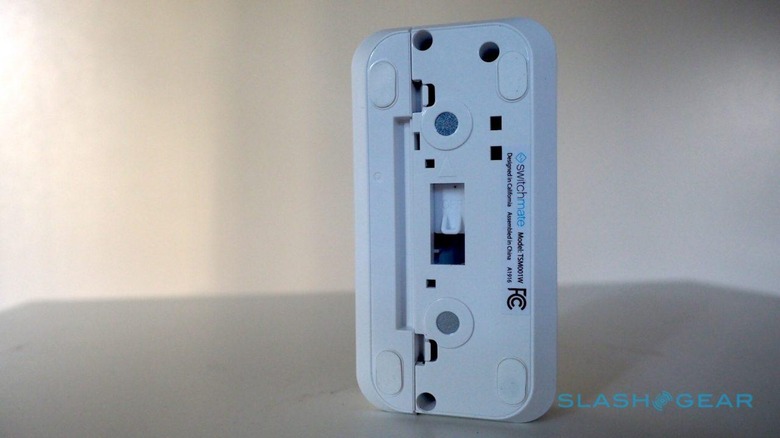 Switchmate is offered in two versions, depending on which switch type you have: toggle, or flat plate. I tested the former, which out of the box assumes that the light is off when the toggle is down, and on when it's up; you can change that during the setup process, or later in the individual Switchmate's settings.
That setup process involves the app – available for iOS and Android – searching for the Switchmate via Bluetooth, pairing, and then walking you through naming it and giving it an icon. After that, it shows up in a list: you can tap the icon to toggle between on and off. It probably took me longer to get the two supplied batteries out of their plastic shrink-wrap than it did to run through the whole installation.
Your switch doesn't have to be controlling lights, either: you could use Switchmate to wirelessly-control your ceiling fan, for instance.
What helps differentiate Switchmate from wirelessly-controlled bulbs is that you still get to use a familiar on-wall control. Install Philips' hue system, for instance, and you can't really use the wall switch any more: you have to leave it turned on, else the Philips app can't remotely control the bulbs.
Switchmate lacks granular control like dimming, but instead it gives you a button on the fascia for direct control. Press it, and the switch underneath is thrown.
If you want to get more serious, there's support for timers and proximity. You can have Switchmate automatically turn the lights on or off at a certain time – the switch itself remembers those settings, so you don't need to have your phone nearby to instruct it – with up to three timers supported for each unit.
As for proximity, that throws the switch once you come within Bluetooth 4.0 range. Switchmate calls it "Welcome" – it's designed so the lights go on when you get home from work, for instance – and you can optionally set limits so that it only happens when it's likely to be dark, perhaps. It's worth noting that Welcome only turns the lights on: you'll have to turn them off yourself.
The simplicity has a downside, of course, and that's compatibility. Right now, the Switchmate app is the only way to control the switch: there's no integration with third-party platforms, like Apple's HomeKit, Nest's Thread, Samsung's SmartThings, or any other ecosystem. Since it's Bluetooth-only, WiFi being left out because it would have too great an impact on the 8-12 month estimated battery life, you need to be within range to control lights: no checking in from work to see if you accidentally left them on.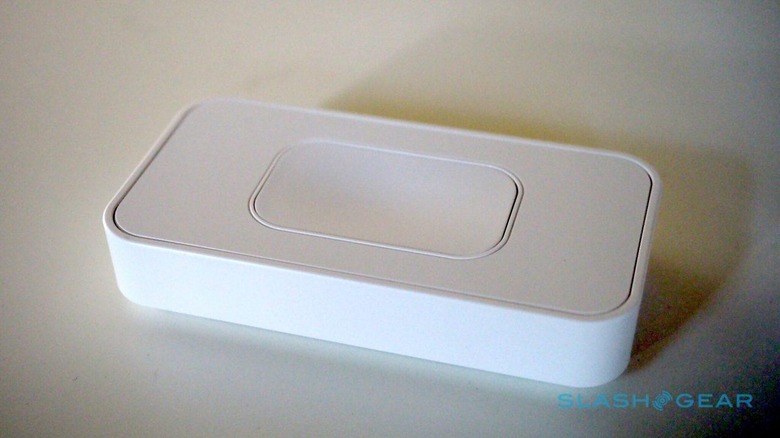 Switchmate says it's working on third-party compatibility, as well as designing its own hub – which I'm guessing will be something like the Bluetooth-WiFi bridge that August offers for its smart locks – but there's no timescale for that. Sensibly, each switch can be paired with, and thus controlled by, multiple phones, while each phone can remember up to twelve Switchmate units.
My only other complaint would be noise. The motor Switchmate has used isn't exactly the quietest out there: it's not loud to the point of rudeness, but there's definitely a buzzing whir as the mechanism throws the switch.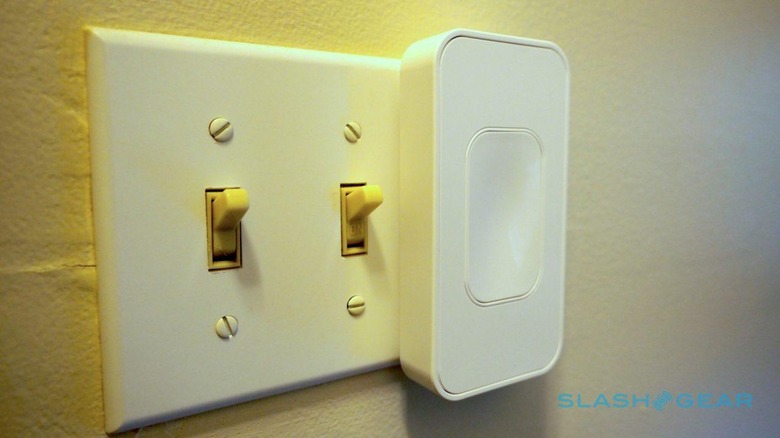 At $39.99 apiece, Switchmate costs the same as something like Belkin's WeMo Lightswitch: your decision effectively comes down to simplicity versus features. Switchmate lacks its WeMo rival's WiFi, silent operation, and IFTTT integration, but Belkin's demands you remove the existing switch and wire it in instead. That's a level of hassle many – particularly those who rent their home – are unwilling or unable to go to.
[Update: An earlier version of this review stated Switchmate was $49; the switch is actually $39.99, which will be reflected in an update on the company's webstore imminently]
The ardent smart home enthusiast will probably still want to go for a more comprehensive lighting system, though that reasoning will undoubtedly be tempered some when Switchmate improves its third-party integration. For the moment, though, there's no denying the ease of installation, the flexibility, and the overall simplicity.